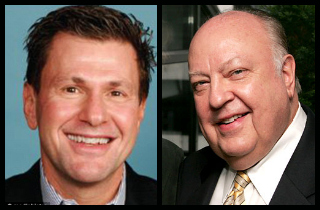 Multiple media outlets (including our own) have reported that the recently-fired Fox News EVP of communications Brian Lewis was also Fox chief Roger Ailes' "right-hand man." Fox's PR department declined to comment on- or off-the-record on this story, but another senior Fox executive told us that Lewis was not anywhere near being Ailes' number-two.
It's unclear where the oft-repeated claims of Lewis being Ailes' confidant originated, but the exec said that the Fox CEO doesn't really have a "right-hand man," and that the relationship soured so much that, within the last year, the PR exec was kept off major public relations stories.
"Few people at Fox have ever seen Lewis at any kind of a strategy meeting, certainly not about programming or talent or news," the source said. "Lewis and [New York editor] Gabriel Sherman are the only two who believe that Lewis was actually the right-hand man to Roger Ailes."
Sherman's the author of an upcoming book on Ailes that will likely contain a majority of negative anecdotes. According to the source, Sherman got much of his information by talking to Lewis. "If Gabe Sherman's book comes from the mind of Brian Lewis, it'll be fiction," the source asserted.
While insider sources all indicate that Lewis was well-known for his ability to strategize, the Fox exec said that things took a turn for the worse when "his ego got out of control and the spin became about himself."
"He came to believe that he kept Roger 'in line', and that everyone else at Fox was an idiot," our source continued. "He had his own agenda."
Contrary to reports (including our own) claiming Lewis to have been Ailes' top adviser, the executive said that "Within the last year, Lewis was out of the loop on PR stuff, including the Megyn Kelly story."
As to why exactly Lewis was fired, it's unclear. The "financial issues" that have been reported involve tens of thousands of company dollars, but the circumstances are still unknown.
— —
>> Follow Andrew Kirell (@AndrewKirell) on Twitter
Have a tip we should know? tips@mediaite.com