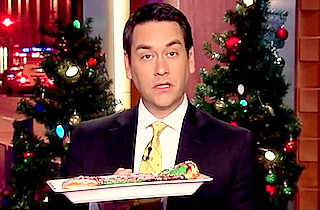 Fox & Friends rang the Nanny State alarm yesterday morning when fill-in host Clayton Morris held up a tray of donuts and told his viewers to eat them before the Obama administration made them illegal.
The hubbub is over FDA regulations expected in 2015 to further limit the amount of partially hydrogenated oils, the primary source of trans fat, in products ranging from pizza to coffee creamer. Alternet's Cliff Weathers tracked down the "Obama banning sprinkles" line to a Breitbart article which warned that "this Christmas, don't pass up those holiday cookies or cupcakes with the festive sprinkles. They may soon be a distant memory we have to explain to our grandchildren."
"Doesn't the FDA have more important things to do than regulate sprinkles?" Morris asked, adding that it's not like people eat these pastries every day or anything.
Per Alternet, this is much ado about nothing: the major sprinkle manufacturers already sell sprinkles without trans fat (Palour boasts of its non-trans fat toppings), while major sprinkle pastry like Dunkin Donuts and Krispy Kreme have managed to eradicate trans fat from their foods without turning into a chain of vegan cafes. Moreover, a ban on high levels of trans fat last decade forced many restaurants to alter how they cooked food; you can still get chicken fried steak.
The new FDA regulations were initially proposed in 2013, when the agency said that eliminating trans fat would prevent 20,000 heart attacks and 7,000 deaths a year.
Watch the clip below, via Fox News:
[Image via screengrab]
——
>> Follow Evan McMurry (@evanmcmurry) on Twitter
Have a tip we should know? tips@mediaite.com