Fox & Friends Asks Dennis Kucinich To Defend Democrat Who Attacked Fox News From Senate Floor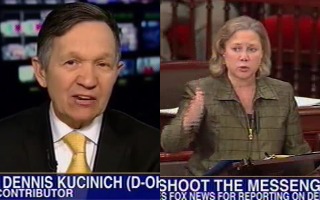 On Wednesday morning's Fox & Friends, the hosts went after Sen. Mary Landrieu (D-LA) who, like President Barack Obama, recently admonished Fox News Channel for spreading what she characterized as disinformation. New Fox News Channel contributor and former House Rep. Dennis Kucinich (D-OH) appeared on Fox & Friends where he was asked to defend Landrieu's attack on his new employer.

RELATED: Kirsten Powers Rips Obama: 'Not Presidential' To 'Smear' Fox News Just Because You Don't Like Hannity
"I'm sensing a trend," Brian Kilmeade began. "It seems as though every third word from Washington these days is about Fox News in a negative light."
Kilmeade scolded Sen. Landrieu for insinuating that the American public is being deceived about the nation's debt and deficit, and only Fox News is concerned about what she claims is a nonissue.
"I am not going to keep cutting the discretionary budget, which, by the way, is not out of control despite what you hear on Fox News," Landrieu said on the Senate floor on Tuesday.
Steve Doocy said Landrieu's comments echo something that Obama reportedly told Speaker John Boehner (R-OH) last year when he claimed Washington does not have a spending problem.
Earlier in the program, they interviewed Kucinich about a number of topics including Landrieu's comments:
"You have to understand that Sen. Landrieu represents a state that still has a lot of needs with respect to the oil spill and hurricanes, and so you've got to be careful about advocating cutting spending that may actually result in your state getting hurt," Kucinich said. "I think it's really about her concerns about the needs of Louisiana as opposed to whatever the federal budget matters are."
"Since the very beginning, we've been trying to give you the other side that they're not telling you on the other channels," Doocy said.
They noted that Landrieu acknowledged on the Senate floor in that same speech that entitlement programs do need to be reformed.
"I remember being on this couch during the Clinton years, and I don't remember Bill Clinton ever saying, 'you know, if Fox News would just got in line with the rest of the media, I could get stuff done,'" Doocy noted.
Watch the clip below via Fox News Channel:
> >Follow Noah Rothman (@NoahCRothman) on Twitter
Have a tip we should know? tips@mediaite.com