Fox & Friends Asks If Outrage Over Pricey Sneaker Shows Black Leaders' Priorities Are Out Of Whack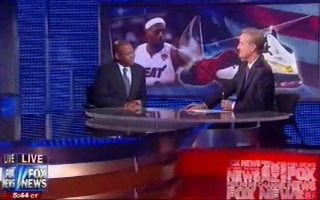 In a segment on whether access to a pair of sneakers costing $300 was a "civil rights issue," Fox & Friends host Steve Doocy and his guest delved into the cultural problems that the black community faces. They asked if this particular sneaker and the outrage over it's price is indicative of a larger problem among African American civil rights leaders who, according to the panel guest, blame shift in order to avoid confronting harsh truths.

Doocy asked his guest, Wall Street Journal columnist Jason Riley, why the Urban League – whose president has issued a stern statement regarding the appropriateness of the shoe's cost – would consider this sneaker an impediment to civil rights.
Riley said he understands why some may say the shoe is too high priced, but he questioned the Urban League's priorities for issuing a statement condemning the shoes.
When you look at some of the real problems facing black America – 14.4 percent unemployment, 6 points higher than the national average. Kids are heading back to school. Back kids, disproportionately, are heading back to the worst schools, the most violent schools with the worst performing teachers. And this is what the national urban league wants to talk about? The price of sneakers? Doesn't make a lot of sense.
"This is about a culture that puts 'bling,' puts conspicuous consumption ahead of industry and thrift," Riley continued. "Blaming corporate America is not going to fix that problem."
Doocy said that Riley writes in his most recent column that the black community needs to focus less on race than concerns that are within their control. Riley says that civil rights leaders focusing on the issue of something like sneakers is mores about justifying their own existence than addressing a real problem.
"The achievement gap in schools is not because black kids watch twice as much television as white kids, it's because standardized tests are biased," said Riley. "Black men are filling our prisons not because of black behavior, but because the criminal justice system is racist. This is all about shifting blame when it comes to these civil rights leaders and they're not doing any favors for the people they claim to represent."
Watch the segment below via Fox News Channel:
> >Follow Noah Rothman (@Noah_C_Rothman) on Twitter
Have a tip we should know? tips@mediaite.com