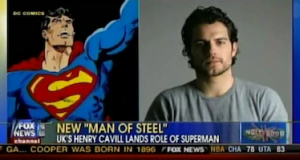 When the news was announced that the upcoming Superman movie had found its lead, many people were thinking, "Who's this Henry Cavill guy?" We at Mediaite, however, were thinking, "Oh, man, I can't wait till Fox & Friends finds out." For, you see, Cavill is a British actor and we knew that Superman being played by a Brit would be just too much for the network that wanted to know why the (non-American) Wonder Woman was losing her American roots. Sure enough, they delivered.
Now, to be fair, the Fox & Friends friends were certainly not the first to notice that Superman is just one of our American superheroes (a genre which some would say is as distinctly American as Hercules and company are Greek) being portrayed by actors from across the pond. The other day, Los Angeles Times blog Hero Complex wrote an article about the subject. Still, we really wanted to hear an F&F take on the subject and we got one from Brian Kilmeade:
"I blame America because our bigger stars aren't in good shape. Kevin James, is he a superhero? Vince Vaughn, is he a superhero? Will Ferrell, Adam Sandler? These are the biggest American stars, they're not gonna fight crime. Billy Madison's gonna capture the imagination of a young child?"
Hmm, it's an interesting argument (quick, someone get Michelle Obama to force our actors to eat better!), but it doesn't really work out. First off, all of those actors are comedians. Seth Rogen may have slimmed down to play the Green Hornet, but we're talking about Superman. Secondly, it's always been a tradition that the Man of Steel would be played by lesser known actors and not huge stars. Besides, isn't Will Smith the actual biggest American star? Of course, we know how well that would work out.
Really, though, I don't see the problem with a British guy playing Superman. It just means I now have a chance to be the next James Bond.
Check out the segment from Fox News below:
(h/t Gawker.tv)
Have a tip we should know? tips@mediaite.com