Fox & Friends' Brian Kilmeade On 'Race Tape' Fail: Obama Hasn't 'Governed In A Racist Way At All'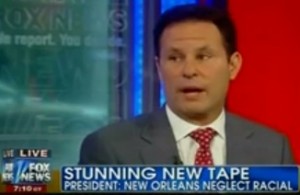 On Morning One of the aftermath to the Drudge-hyped, Tucker Carlson-discovered, Sean Hannity-amplified racial bombshell, things have gotten really embarrassing for the purveyors of a 2007 speech by then-Sen. Barack Obama. After a night of blistering mockery from pretty much everyone outside the conservative media bubble, it turns out that the Hannity/Carlson narrative of a racist Barack Obama can't even get traction with Fox and Friends' Brian Kilmeade, who dismissed the tape Wednesday morning, noting "I don't think he's governed in a racist way," and concluding "does anyone think that the President is more towards one race? I don't think so."
Before the Hannity show even aired, journalists were already mocking the tape's hype by noting that the "bombshell" was extensively covered in 2007, even by Tucker Carlson. Once Hannity aired the tape, which featured then-Sen. Obama speaking passionately and powerfully about poverty, the host took things over the top when he accused "so-called unbiased journalists" of "trying to hide (the tape) for years," even though the speech was actually aired by Fox News in 2007. The tape also features extensive references to the disastrous Republican response to Hurricane Katrina, a reminder to voters of what a GOP administration looks like.
The tape has also become an unwanted headache for the Mitt Romney campaign, which issued a statement denying involvement in the tape's release, but still faces questions about it this morning.
But just when you think it couldn't get any fail-ier for Team White Panic, along comes Brian Kilmeade to torpedo Tucker Carlson's "insights" about how Sen. Obama was "whipping up fear and paranoia and hatred" by speaking with 100% accuracy about the federal response to Katrina.
"Here is the problem," Kilmeade said. "That could be true, but we watched President Obama, for three and a half years, I don't think he's governed in a racist way at all, and I just think if that was going to be an issue, should have been an issue in 08. 'Why come out now? That's another issue. but in terms of does anyone think that the President is more towards one race? I don't think so."
Here's the clip, via Fox News:

(h/t MMFA)
Have a tip we should know? [email protected]