Fox & Friends Calls Out CBS For Letting Obama, Clinton Claim They Were Friendly In 2008 Primaries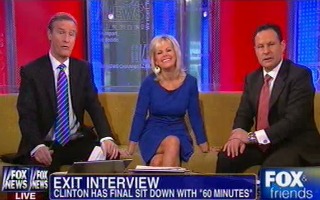 The hosts of Fox & Friends took a moment on Monday to chide CBS News, and 60 Minutes in particular, for interviewing President Barack Obama and Secretary of State Hillary Clinton jointly and allowing them to claim that they had no differences of opinion during the 2008 Democratic primaries. The Fox News Channel hosts wondered why CBS didn't play a clip of one of their many contentious exchanges, or ask about the incident in which an Obama campaign member alleged that Bill Clinton was racially insensitive after an Obama primary victory.

RELATED: Hillary Clinton And Obama Sit Down For Wide-Ranging 60 Minutes Joint Interview
President Obama and Sec. Clinton sat down on Sunday with 60 Minutes reporter Steve Kroft who asked them about the state of their relationship. The president said that his relationship with Clinton was strong and that they frequently share the same position on most issues.
"Made for tough debates, by the way, because we could never figure out what we differed on," Obama told Kroft.
"We worked at that pretty hard," Clinton concurred.
"I consider Hillary a strong friend," Obama later added.
"Very warm, close – I think there is a sense of understanding that sometimes doesn't even take words because we have similar views, similar experiences that, I think, provide a bond that may seem unlikely to some but has been really at the core of our relationship over the last four years," Clinton agreed.
"I beg to differ with what the two of them said to one another about how they didn't have any differences in the debates," Gretchen Carlson said. "Don't you remember those debates?"
"They were at each other's throats," Steve Doocy interjected.
"They had a lot of differences," Carlson acknowledged.
"This should have been done, like, three months after she was asked to be Secretary of State and accepted, not four years later," Brian Kilmeade opined. He wondered why CBS did not play a clip of one of many heated exchanges between Clinton and Obama during the 2008 Democratic primary debates.
Kilmeade went on to cite an incident in which some members of Obama's campaign staff and the press alleged that Bill Clinton harbored racial animosity towards then-Senator Obama following his victory in the South Carolina Democratic primary. The incident occurred after Clinton noted that Rev. Jesse Jackson had also won in the Palmetto State in 1984 and 1988, suggesting that Obama's victory was due as much to his political prowess as it was to his race.
Kilmeade wondered why this incident never came up. "Then you would have had something going on," he said. "A typical 60 Minutes interview."
Watch the clip below via Fox News Channel:
> >Follow Noah Rothman (@NoahCRothman) on Twitter
Have a tip we should know? tips@mediaite.com