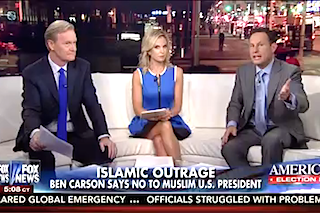 The hosts of Fox & Friends did not seem to understand why people are so outraged Monday morning after GOP presidential candidate Ben Carson told Meet the Press' Chuck Todd on Sunday that he would not be in favor of electing a Muslim-American president of the United States. In fact, they labeled Todd's inquiry about the important of a president's faith the "ultimate gotcha" question.
"They were debating whether a Muslim should be a president back in the creation of our country," Brian Kilmeade said after a recap of the exchange. While Todd and Carson did discuss whether or not Islam is "consistent with the Constitution," they were without a doubt talking about the present day. "You can have that discussion and not be labeled a racist, or a Zionist, or anything else," he added. "This is an open dialog. Why is everyone calling on everyone to apologize? It's an ultimate gotcha moment."
"Who is real? Whose the real person, you ask?" Elisabeth Hasselbeck chimed in, suggesting this story is just more evidence that Carson is not a packaged politician.
"Can he just give an honest answer?" Kilmeade asked. "And now there's going to be a fourth clarification. That's how he feels — he would not vote for a Muslim. It doesn't mean they should not run. It doesn't mean the rest of America can't vote for a Muslim."
Speaking on CNN's New Day Monday morning, Carson's campaign business manager Armstrong Williams defended the candidate's comments, saying, "He's thinking like someone who loves America first, who wants to protect America."
Watch video below, via Fox News:
UPDATE — 3:17 p.m. ET: In response to a Raw Story article about this clip, Hasselbeck clarified that her "real" comments actually referred to the following segment about Hillary Clinton, and not to Carson:
This headline is a LIE. I never said what it claims. I was transitioning to topic on Hillary saying she is "real" http://t.co/nCGpkfusZr

— elisabeth hasselbeck (@ehasselbeck) September 21, 2015
[h/t MMFA]
[Photo via screengrab]
— —
>> Follow Matt Wilstein (@TheMattWilstein) on Twitter
Have a tip we should know? [email protected]