Fox & Friends Clashes Over CBS Political Director's Response To 'Pulverize' GOP Column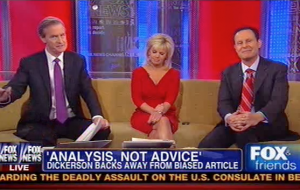 The Fox & Friends crew revisited CBS political director/Slate correspondent John Dickerson's column about President Obama and declaring "war" on the GOP. Following Dickerson's response — that is was analysis, not advice — not all the co-hosts were buying it.
RELATED: Fox & Friends Goes After CBS Political Director For Column Asserting Obama Should 'Pulverize' GOP
"Remember, CBS News, mainstream media," Steve Doocy reminded us, before going on to recap the column in which Dickerson said Obama should "go for the throat" when negotiating with his opponents and has no choice but to "pulverize them." For his part, Dickerson penned a response on Tuesday, explaining that he was not offering advice but showing that "this is the only plausible path for a bold, game-changing second term for a president who has positioned himself the way President Obama has."
"I have to say I understand some of his points of view now," Gretchen Carlson remarked. In addition, she agreed with him that Obama's legacy will not be about coming to the middle, which was demonstrated in his inaugural address.
Doocy wasn't on board, stressing that Dickerson is supposed to be unbiased, not partisan. Yet he does seem to be offering advice. How, he asked, can he be both the political director and write such opinionated pieces? "John, just pick a lane," Doocy advised. "Which is it? Down the middle or way left?"
"It looks like he was giving the president advice, and he has a point of view, and I thought he was supposed to not have one in that situation," Brian Kilmeade agreed.
Take a look, via Fox News:

Have a tip we should know? tips@mediaite.com