Fox & Friends Clashes Over 'Dangerous Precedent' Set By Reported Hacking Of Hillary Clinton's Benghazi Memos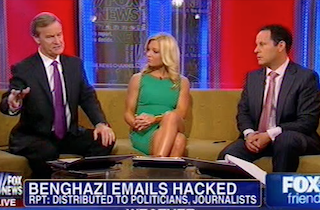 On Tuesday's show, the Fox & Friends crew took on The Smoking Gun's report saying Hillary Clinton's Benghazi memos have been hacked via her email and sent to various political figures and journalists. Generally, the hosts weren't quite in agreement over the issue: While Steve Doocy focused on the Obama administration not coming forward with the information voluntarily, Brian Kilmeade questioned the precedent this sets.
According to the report, Clinton's confidential memos, between her and confidant Sidney Blumenthal, were stolen from her email by hacker "Guccifer" who "distributed some of the documents to a wide array of congressional aides, political figures, and journalists worldwide."
Kilmeade was "torn" by the issue. "If you're going to take this information and run with it, as much as you want to find out what's in it, should we all now publish what happened on the Bush personal emails?" he asked. "Should we get those emails that were let out by that hacker over in Iraq that let everybody's emails out from the State Department?"
On the other hand, he continued, the emails could disclose whether the Benghazi cables ever did reach Clinton's desk. But it's a "dangerous precedent," he asserted. "You start looking at hacked emails among these congressmen, then when they get hacked, is that going to be open season? Is it going to encourage more people to do the same thing?"
"It would be great if the Obama administration simply released the information and told us what was actually happening," Doocy countered. "But so far they have not been very forthcoming. And with a compliant mainstream media, people aren't asking a lot of questions."
"You could say it would be great for the Obama administration to come forward," Kilmeade replied. but nobody thinks their personal interaction should be public."
Doocy pointed to Wikileaks to make a point about a double standard. "As soon as they got their hands on the stuff at the Bush White House, 'Oh, let's just spread it out there so everybody can see,'" he argued. "It's interesting to see the restraint that people in the press so far are using."
"But they are restraining with the Bush family," Kilmeade interjected.
"The information was released," Doocy replied. "That was published."
"I didn't see a lot of information about it," Kilmeade insisted, at which point Doocy moved on, noting that it'll be interesting to see what information about this situation does come out.
Take a look, via Fox News:

Have a tip we should know? tips@mediaite.com