Fox & Friends Panel Clashes Over Report Asserting Lack Of Accountability Following Benghazi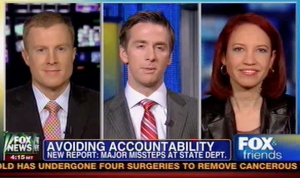 On Monday morning, Fox & Friends looked to GOP strategist Michael Barnes and Democratic strategist Christy Setzer to make some sense of how accountability has been handled in the aftermath of the attack on the U.S. consulate in Benghazi. Looking to a report that asserted that those at the State Department who were fired were actually just reassigned, the panel clashed over who gets the blame.
"No, it hasn't been enough," Barnes said, referring to President Obama's explanation of how the attack happened, on Meet the Press. "It hasn't been enough since day one, when the president denied that this was a terrorist attack." Barnes went on to argue that though "there's been some shifting of chairs" at the State Department, but ultimately the president has "diminished" the issue of national security to "one of a personnel issue."
By contrast, Setzer pointed to the report that laid out recommendations. Noting that Secretary of State Hillary Clinton and Obama both accepted those recommendations, Setzer said there already seems to be a process in place.
The tragedy highlighted the need for extra security for embassies and diplomats, she continued, and it's "troubling that the House Republican-controlled caucus voted to cut embassy security by half a billion dollars."
"That of course had nothing to do with the Benghazi attack, as I'm sure you can acknowledge," Dave Briggs interjected.
"The question is," Setzer insisted, "why are Republicans latecomers to this issue on our security? Why is this an issue now?"
Barnes countered that national security decisions come from the president — and that Obama wants to cut defense spending.
Watch below, via Fox News:

Have a tip we should know? [email protected]