Fox & Friends Confronts WV Democrat with Obama Campaign Photo: 'Are You a Flip-Flopper?'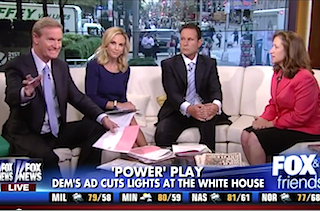 West Virginia's Democratic Senate candidate Natalie Tennant released an ad on Monday in which she literally turned off the power at the White House in protest of President Barack Obama's climate action plan that would limit coal-fired power plants in her state. That was enough to land her a spot on the Fox & Friends couch Tuesday morning.
But while the Fox & Friends hosts were impressed with Tennant's willingness to stand up to the president, they couldn't help but confront the candidate with supposedly damning photos of her campaigning for Obama in 2008. Her Republican opponent, Shelley Moore Capito, tweeted the photo below on Sunday, with which Fox promptly confronted Tennant Tuesday morning:
.@Natalieforwv was for Obama and his #WarOnCoal before she started running for Senate http://t.co/Z14G28JfN3 #wvsen pic.twitter.com/4qswLASNoA

— Capito for WV (@CapitoforWV) July 27, 2014
"Are you a flip-flopper?" Steve Doocy asked.
Tennant told the hosts that she "stands up for West Virginia first," moving the conversation away from her past support of Obama. When she continued to be pressed on the issue, she admitted, "Yes, I did campaign for the president in 2008. I am disappointed and I am hurt with the way he is reacting to West Virginia."
She initially refused to answer the hosts' questions about whether she would support the president again today, ultimately saying, "I'm not sure. And he's not on the ballot." She added, "This is about me and Shelley Moore Capito and about West Virginia because I don't answer to the president."
Capito was apparently not impressed with that answer, tweeting out the photo again as it appeared on Fox:
.@Natalieforwv refuses to say if she'd campaign for Obama again. WV deserves better. http://t.co/PwdOPET5m5. #wvsen pic.twitter.com/hy2NSsQMax

— Capito for WV (@CapitoforWV) July 29, 2014
Watch video below, via Fox News:
[Photo via screengrab]
— —
>> Follow Matt Wilstein (@TheMattWilstein) on Twitter
Have a tip we should know? tips@mediaite.com