Fox & Friends Demands Jailed Marine's Return from Mexico: 'We Don't Ship Illegals Home'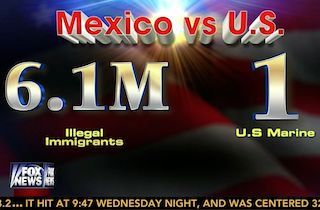 The hosts of Fox & Friends Thursday morning took up the cause of jailed Marine Sgt. Andrew Tahmooressi, who is being held in a Mexican prison on gun charges after he said he took a wrong turn in Tijuana. The hosts argued that the U.S. has over 6 million undocumented Mexican citizens within its borders it didn't "ship home" and instead employed full time, so Mexico could certainly afford to send back one Marine.

"Where is #diplomacy there?" Elisabeth Hasselbeck demanded. "Where is #bringTahmooressihome? Hash tag that."
"Aren't you tired of these countries disrespecting our Marines?" Brian Kilmeade asked. "This is a country, in Mexico, where 80% of their goods are shipped our direction. Think about what we do when we have an illegal in our country. We don't ship them home. They basically work full time!"
"Are you suggesting we have some illegals from Mexico in our country?" Steve Doocy asked.
"I've heard somebody who has a friend that has a friend that has another friend that heard about a guy that might have snuck here by mistake," Kilmeade replied.
"Officially there are 6.1 million illegals in this country, versus one," Doocy said. "We just want one Marine who made a wrong turn and had legal guns, sprung from that Mexican jail."
The hosts argued that Americans should boycott Mexico as a tourism destination. "If you have a vacation plan this year and you are a patriotic American, how can you go to Cancun knowing a Marine is sitting in jail?" Kilmeade asked.
Watch the clip below, via Fox News:
[Image via screengrab]
——
>> Follow Evan McMurry (@evanmcmurry) on Twitter
Have a tip we should know? tips@mediaite.com