Fox & Friends' Doocy Laments Other Networks Covering 'Bridge Thing' Instead of Gates' Memoir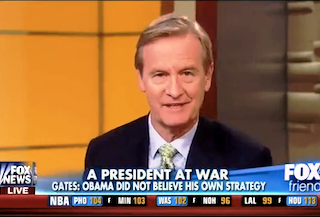 What's the most important news story of the day? As is often the case, that may depend on which 24-hour cable news network you're watching. On the one hand, former Defense Secretary Robert Gates released a bombshell book, Duty: Memoirs of a Secretary at War
, which makes damning allegations against President Barack Obama and Vice President Joe Biden. On the other, New Jersey Gov. Chris Christie has been implicated in a political retribution scandal known as "Bridgegate."
RELATED: Fox Personalities Push Back Against Charges They're 'Downplaying' Christie Story
According to Fox & Friends host Steve Doocy, some other cable channels are ignoring the former and devoting perhaps too much coverage to the latter.
"Imagine the commander-in-chief claiming he supports you, but not your mission," Elisabeth Hasselbeck said during the first segment of the show Thursday. "It just doesn't make sense, from the President of the United States, to hear any of that coming forward in this book is just shocking, disheartening."
"Yeah," Doocy agreed. "And I was watching one news channel yesterday, you would think that this would be a big story — all about the bridge thing with Christie."
Doocy did not say which news channel he was talking about, but it could easily have been either CNN or MSNBC, which both spent most of the day Wednesday focused on the story.
On Fox, meanwhile, Christie's "Bridgegate" scandal was not given airtime until the 3pm hour, when Shepard Smith did a segment on it. After that, Bret Baier, Greta Van Susteren and Megyn Kelly each covered the story, while it was ignored by Sean Hannity.
Watch video below, via Fox News:
[h/t Raw Story]
[photo via screengrab]
— —
>> Follow Matt Wilstein (@TheMattWilstein) on Twitter
Have a tip we should know? tips@mediaite.com