Fox & Friends Falsely 'Reports' That Democratic Congressman Called The Constitution 'Silly'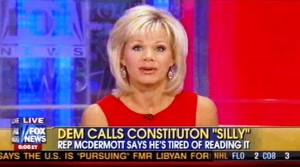 On Friday morning's edition of Fox & Friends, the program's anchors spent several segments "reporting" on the remarks of Rep. Jim McDermott (D-WA) concerning the reading of the US Constitution on the floor of the House. While their interpretation of his statement that he's "tired of reading the Constitution" was, perhaps, unfair, their assertion that he "called the Constitution silly" was factually inaccurate. Does the "opinion/news" border fence at Fox entitle Fox & Friends to their own facts?
Here's 3 clips from the April 1st broadcast of Fox & Friends:
McDermott's remarks, even without any surrounding context, are pretty clear. When he says "I am tired of reading the Constitution and all the silly things we have done for the last 13 weeks," he's clearly referring to the gimmicky nature of the Republicans' insistence upon reading the US Constitution into the record at the beginning of the 112th Congress, a reading that omitted any reference to slavery, or to any parts of the document whose pages were stuck together.
He's also referring to the House GOP's new rule that every bill include an explicit Constitutional citation. You remember that, don't you? It's the rule the Republicans immediately decided to ignore.
More broadly, the "silly things" includes, as he says in the next sentence, all of the non-job-related wastes of time that the GOP-controlled House has engaged in, such as an ill-fated attempt to redefine rape, an extra swearing-in ceremony necessitated by two of its members taking their oath via TV, and their recent attempt to circumvent Schoolhouse Rock.
Even so, the notion that McDermott is "tired of reading the Constitution" falls under the "opinion" banner that Fox News has assigned Fox & Friends. Opinion outlets do it all the time, they ascribe an interpretation, often omitting crucial context, in order to make a point about an opponent. For instance, Newt Gingrich didn't actually say that adultery is an act of patriotism, but that's how it sounded to Lawrence O'Donnell. For O'Donnell, and many others, Gingrich's excuse for his infidelity reinforced the opinion that the former Speaker is a hypocrite.
In much the same way, McDermott's quote reinforced many conservatives' opinion that they are the only ones who care about the Constitution, even when they don't.
However, saying that McDermott "called the Constitution silly," as F&F did repeatedly on Friday morning, is just factually inaccurate, and it leads me to the question that I've been trying to get Fox News to answer for years, a question that Jon Stewart notably failed to ask Brett Baier when he had him in his guest chair. Obviously, Fox News has differing standards for its "opinion" shows, versus its "hard news" programming, but they've never really made clear what those standards are. Does being an "opinion" program lower the standards of factual reporting? Spin is one thing, but do "opinion" programs at Fox have a duty to report the facts accurately?
Whether you think they adhere to them or not, I asked the very same question of MSNBC's Bill Wolff not long ago, and he was not afraid to set those standards for his program:
Q: What do you make of the distinction, often raised by Fox News, between hard news and opinion programming? Do you feel that separation at MSNBC, and is there a difference in standards between the two "breeds?"

BW: There really isn't a difference in the standards of accuracy. Hard news and opinion/analysis are both required to have all of the information verified and accurate. Factual errors bear correction in all cases. The fundamental commodity in any news enterprise is credibility, and that axiom applies across the board in every format.
But in the case of Fox News, I have asked this question repeatedly, and requested comment from their hard news reporters and anchors, but have never been granted a response.
The extent to which a dividing line between opinion and news exists at Fox News is a completely separate matter, one that is open to its own debate. However, the extent to which that dividing line is a talisman against any and all perceived evils should not extend to offers of fact, and Fox News should say so.
(h/t)
Have a tip we should know? tips@mediaite.com