Fox & Friends Film Critic Snubs 12 Years a Slave, Says Don't Pay Full Price to See Ride Along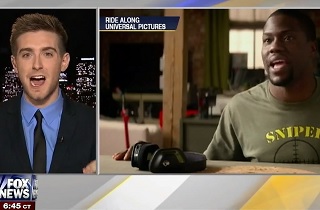 Watching Fox News can sometimes feel like peeking through a window into another dimension. Case in point: in the rest of the world, 12 Years a Slave is considered a top contender for a Best Picture Oscar®, and the Ice Cube/Kevin Hart flick Ride Along is playing to record-breaking audiences. On Friday morning's Fox & Friends, however, Fox News movie critic Kevin McCarthy ignored 12 Years a Slave in his Oscar® recommendations (while including a film that isn't even nominated), and advised the audience "do not go the full ticket price" for Ride Along.
After noting Ride Along's record-breaking 48.6 million January opening, and playing a taped interview in which stars Hart and Ice Cube explain how the filmmakers blew Hart into a wall with a shotgun recoil, McCarthy said: "The move itself is very cliché, very predictable, but Kevin Hart's comedic energy really elevates the mediocre script. I gave it a three out of five, which, on my scale, means check out a matinée, or a rental, just do not go the full ticket price."
Co-host Elisabeth Hasselbeck then asked McCarthy for his recommendations "when it comes to Oscar nods and winners."
Out of the nine nominated films, McCarthy chose Gravity, The Wolf of Wall Street, Dallas Buyers Club, and Captain Phillips, and then threw in the not-nominated Lone Survivor for good measure.
Co-host Brian Kilmeade, who felt Gravity was "overrated," told viewers to rent Here Comes the Boom at something called a "Blockbuster."
Here's the clip, from Fox & Friends:
Have a tip we should know? tips@mediaite.com