Fox & Friends Gets Tense When Geraldo Defends Networks For Not Airing Reports On Fast And Furious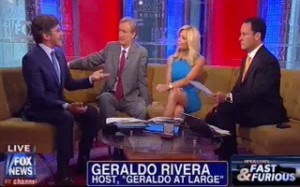 Fox News Channel host Geraldo Rivera appeared on Fox & Friends on Friday where a discussion over the relevance of the investigation into Attorney General Eric Holder's involvement in the Fast and Furious gun walking scandal quickly became tense. Rivera and co-host Steve Doocy raised their voices at each other after Rivera claimed that the investigation is a political witch hunt and said that the broadcast news networks have largely ignored the story because they correctly view it as a partisan affair.

RELATED: Geraldo Rivera: Mitt Romney 'Wouldn't Even Let [Latinos] In His Apartment'
Rivera watched a portion of a clip from Thursday night's Hannity interview in which slain border agent Brian Terry's family accused the Obama administration of attempting to bury the Fast and Furious investigation until after the election.
Rivera said that it is impossible not to feel for these parents; however, he cited the opinions of two members of the House Oversight Committee who told him that there are no allegations of wrongdoing aimed at either the President or the Attorney General.
"It was the idea of the [Bureau of Alcohol, Tobacco, Firearms and Explosives]," said Rivera. They had done a similar operation – as you all have been talking about all morning long — in the Bush administration. It was a dumb idea in the Bush administration; it was a worse idea in the Obama administration. And now you have a dead agent."
He said, however, that attempting to determine what Holder knew and when he knew it becomes a "gotcha" situation. "One man's cover-up is another man's witch hunt. And it is impossible — and I'm very sorry to say this — not to view this as a partisan activity," said Rivera.
Doocy interjected and quoted Sen. Charles Grassley (R-IA) who also subpoenaed records from the Bush justice department officials. "I hated when they went after Alberto Gonzalez – he is a friend of mine," Rivera interrupted. "But they never tried to cite them for contempt of Congress – this is a first. It's never been done before."
"It stunk when they did it to the Bush administration officials and it stinks now," River concluded.
Finally, co-host Brian Kilmeade asked Rivera why the broadcast network news operations have thus far avoided reporting on this story.
"I do believe that they see the world through rose-colored glasses that are tinted in the Democratic vein," said Rivera. "They see this as a partisan thing – it is a partisan thing. Again, you cannot deny that this is partisan."
"But we're talking about contempt of Congress," said Doocy.
"Contempt of Congress," Rivera began. "But the very act of citing in contempt–"
"—It's news. It's news," replied Doocy.
"It's news, but it is news of the political sort," Rivera said. He said that there are major economic stories that are developing and when the public looks at Congress and sees what he defines as their pursuit of a political goal, they become exasperated. "Do you really want a gotcha moment," asked Rivera.
"They want the truth," said fill-in host Anna Kooiman.
"What truth do you want," exclaimed Rivera. "Brian Terry is dead. We know it was a botched operation in the Phoenix office. What more?"
Watch the segment below via Fox News Channel:
> >Follow Noah Rothman (@Noah_C_Rothman) on Twitter
Have a tip we should know? tips@mediaite.com