Fox & Friends Goes After 'Extremely Insulting' Harry Reid For 'Extraordinarily' Linking Sequester With Marines' Deaths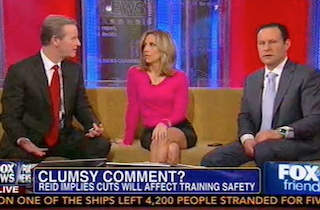 Senate Majority Leader Harry Reid caused a stir yesterday when he brought up the sequester while he was speaking about the deaths of seven Marines during a live-fire training exercise. Fox & Friends took note on Wednesday, questioning whether Reid said the tragedy happened because of the spending cuts. Steve Doocy in particular, called on the senator to apologize.
"We don't know exactly what happened, but we know it was a violent explosion," Reid said on Tuesday. "It's very important we continue training our military. So important. But one of the things in sequester is we cut back on training and maintenance. That's the way sequester was written."
Doocy hit Reid for "extraordinarily" suggesting Marines are being sent out without proper training, which is "not true." It's "extremely insulting," Brian Kilmeade agreed, noting how the fallen Marines' families must feeling.
Alisyn Camerota, however, didn't draw the same conclusion from Reid's comments, arguing that while he "linked" the two, he didn't say the sequester led to or caused the tragedy. "He was talking about the tragedy and then he just segued in his own head, and verbally, to talking about the sequester and about how we have to be careful about the sequester," she said. "Harry Reid does this a lot, by the way. His spokespeople are forever apologizing about the clumsy things he says."
"Whether he wanted to or not, he linked it and it's wrong," Doocy asserted. "Not only should he apologize to the Marines, he should apologize to the families of the Marines as well."
Take a look, via Fox News:

Have a tip we should know? tips@mediaite.com