Fox & Friends Guest Advocates Spanking In Teen Ponytail-Cutting Case: 'Little Lubiderm' & 'You're Fine'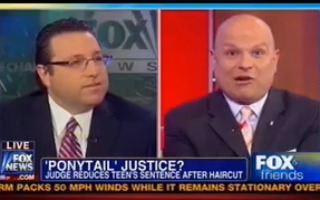 In a segment that very quickly turned into a shouting fest, Fox & Friends guests Arthur Aidala, a criminal defense attorney, and former prosecutor and defense attorney David Schwartz each (loudly) gave his take on a case involving a young girl who cut off a toddler's hair in a restaurant. In a move that's drawing a lot of attention, the judge in the case sentenced the girl to a period of community service, 30 days' detention and… the option of court-approved ponytail chopping in exchange for fewer community service hours. An eye for an eye, as it were.
Aidala praised the judge for "thinking outside of the box," adding that this particular sentence, as he sees it, provides "guidance and will stop them from doing it again in the future."
Schwartz disagreed, calling the sentence a clear abuse of discretion. "There is no 'eye for an eye' in our court system," he said. "This is not Deuteronomy; this is our court system. If somebody commits an assault, we have seen every type of assault case imaginable, you can't have retribution in the courtroom itself. It's abuse of discretion and it's an inappropriate sentence and also, it's a lost opportunity. Because there's clearly mental health issues on the part of this 13-year-old and we lost an opportunity."
Aidala would have none of this therapy talk. "Enough with the therapy," he yelled. "You know what my therapy used to be? My father used to take off his belt and whip me in the butt."
"Trust me," he added, "a little bit of Lubriderm in the morning, you're fine." Yee-ouch.
Have a look, via Fox News:
Have a tip we should know? tips@mediaite.com