Fox & Friends Guest Lays Into Media For Buying Obama Admin's 'Crocodile Tears' About Sequester Cuts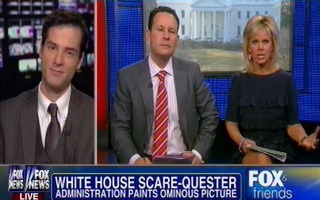 Washington Examiner columnist and author David Freddoso appeared on Fox & Friends on Monday where he chided the credulous political press for believing what he considers the spin that members of President Barack Obama's administration have put on the upcoming sequester cuts. He said that the administration will continue to shed "crocodile tears" about what is in fact only a reduction in the rate of growth, and the press should be challenging the administration on their facts.

RELATED: Candy Crowley Goes Off On McCain: If Sequester So Bad, Why Is Congress On Recess And Obama Golfing?
Gretchen Carlson asked Freddoso to weigh in on an appearance by Transportation Sec. Ray LaHood on Meet the Press yesterday in which he warned of the dire consequence to the nation's infrastructure if sequestration cuts were implemented.
Freddoso found LaHood's warnings about the closure of airports and the dramatically increased wait times at security screenings to be hollow threats.
"His department's budget goes up this year from the last year," Freddoso said. "This is a classic case of an administration employing the 'Washington Monument Strategy,' which is where you shut down whatever is going to cause the most pain so that you can teach people a lesson about not – never cut spending again."
"That's what's going on here, and if the media buys into it, we're all – you know, if the media gets bamboozled, we all lose," Freddoso said.
Brian Kilmeade agreed and said that LaHood could not even adequately respond to follow up questions from reporters about his claims because he only had a "message and a mission" to scare the public about upcoming budget cuts.
Freddoso added that sequestration does not even amount to actual cuts, but only decreases in projected rates of growth.
"These guys are going to shed crocodile tears about how horrible the world is going to be if these cuts go into effect, and later this year they're all going to end up at warm weather locations going to some unnecessary conference," Freddoso said.
Freddoso said that a government that implements cuts in the way that they are saying they will – to do so in a way that inflicts maximum pain on taxpayers – are being irresponsible. "People who do that sort of thing should be punished by public opinion," Freddoso said. "That's what the media is here for."
He closed by noting that the sequester has done nothing to intimidate Washington D.C.-area home buyers. Home values in the area around the District are up 11 percent in the last year.
Watch the clip below via Fox News Channel:
> >Follow Noah Rothman (@NoahCRothman) on Twitter
Have a tip we should know? tips@mediaite.com