Fox & Friends Guest: Obama Needs To Use 'Chicago-Style' Politics With Russia, Be 'Mr. Nice Guy' With Congress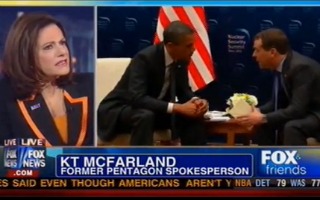 On Tuesday, Fox News national security expert and former Pentagon spokesperson KT McFarland stopped by the set of Fox & Friends to offer her analysis of President Barack Obama's recent "hot mic" moment.
"That's not an off the cuff remark," McFarland said of the President's comment to Russia's Dmitry Medvedev. "If this is what the President says to the Russians, what's he saying to the Chinese? What's he saying to the Iranians? What's he saying to the Syrians? You don't go talk about stuff like this in advance of a negotiation. Now, why? For a couple of reasons. When you're negotiating with the Russians, you don't tell them in advance what you're going to do. You don't give them the good will gesture up front because then they don't return it."
RELATED: Republicans React To Obama's Hot Mic Incident: What Else Is The President Not Telling Us?
McFarland also felt that this style of politics might suit the President better when it comes to dealing with issues here at home. "Yeah, the thing is," she said, "the President has the Chicago-style politics, elbows out when he's dealing with Congress, and then when he's dealing with our adversaries, he's Mr. Nice Guy. Flip that around. You should be Mr. Nice Guy in dealing at home and then elbows out defending American interests abroad."
That said, McFarland believes that "we're getting nothing" out of dealing nicely with Russia. "We're, in fact," she continued, "getting worse than nothing. If you look back historically, where have we gotten the best deals for America negotiating with the Russians? Where we've been tough and especially over the missile shield. When Reagan was willing to walk away from the Russians on a missile shield deal because he wouldn't gave up star wars, that's when he came around and caved."
Watch, via Fox News:
Have a tip we should know? tips@mediaite.com