Fox & Friends Guest Speculates On Future Movie Theater Security: No More Costumes, Props In Theaters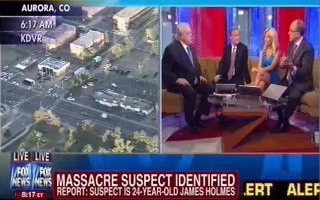 Forensic pathologist Dr. Michael Baden joined Fox & Friends on Friday to discuss the potential impact of the mass shootings that occurred early Friday morning in a Colorado movie theater. He said that security will likely tighten at movie theaters nationwide starting immediately and it was very likely that costumes and props could be banned.

RELATED: 12 Dead, About 50 Injured After Shooting At Colorado Movie Theater
"This has pointed out the vulnerability of moviegoers to not only gunfire but also to gasses," said Baden noting that early reports suggest that the shooter initially set off a smoke canister inside the theater.
"They've been put on notice that this can happen again, there could be copycats," said Baden.
"What do you mean copycats," asked co-host Steve Doocy.
"Some other mentally disturbed people who go in and they want fame, they want their picture in the front pages of the local newspapers, or they have a political agenda – they're upset at the United States or something," speculated Baden.
Fill-in host Peter Johnson said that the soft target terror scenario has been the fear of many security experts since September 11, and American's have almost "become acculturated" to school shootings.
"So you believe, as a result of this, there's going to be a new sensitivity these types of places," asked Johnson, while noting that this event does not appear to be an act of terror.
Fill-in host Anna Kooiman also mentioned that people go to these types of movies in costumes, including what can appear to look like body armor. "That's a problem also," said Baden.
"As of tomorrow, we're going to see changes in security in large movie theaters," said Baden. "Even Harry Potters – you come in with a broomstick – you could have a rifle under a broomstick."
Watch the segment below via Fox News Channel:
> >Follow Noah Rothman (@Noah_C_Rothman) on Twitter
Have a tip we should know? [email protected]