Fox & Friends Has Various Theories On Why 60 Minutes Edited Out Obama's Libya Answer
Fox & Friends
: Why Did
60 Minutes
Edit Out Obama's Libya Answer?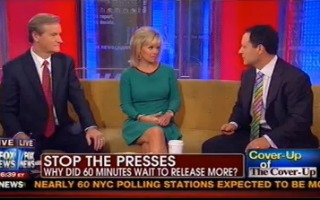 On Monday, the hosts of Fox & Friends turned their collective attention over to CBS' 60 Minutes interview with President Barack Obama in the days following the attack in Benghazi. Why, the hosts wanted to know, did the show not air a portion of the interview wherein the President says the following:
Well, it's too early to tell exactly how this came about, what group was involved, but obviously it was an attack on Americans.
The hosts had some theories.
Steve Doocy, for instance, found the President's use of the word "groups" interesting, particularly given the still-unfolding timeline of who knew what at one point following the deadly attack.
Gretchen Carlson wondered why that particular response hadn't made it to air during the original 60 Minutes broadcast. "I mean, it was the news of the day," she said. "There wre four Americans who died, it was on 9/11 . It was a big deal. So, and, the second part of the question is: Why does CBS feel compelled now to release it, two days before the election?"
"If it was a smoking gun," added Doocy, "they'd release it next Wednesday, or the day after that."
"Could a call have been made?" asked Brian Kilmeade, asking that the President's comment be "left out" in the wake of Ambassador Susan Rice's comment from earlier that day.
"I mean,e discussed this a couple of weeks ago," said Carlson, "when we started looking at the timeline and our reporters came out with more information on what happened in Libya. Remember, we had this exact discussion about whether or not there was something funny about Susan Rice being on Sunday morning and 60 Minutes on Sunday night. We don't know, but let us know what you think about that."
Watch, via Fox News:
Have a tip we should know? tips@mediaite.com