Fox & Friends Host Gretchen Carlson Tries To Sell John Stossel On The Virtues Of Religion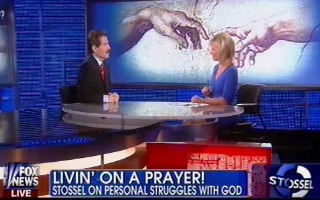 Fox Business Network host John Stossel sat down with Gretchen Carlson on Thursday to discuss an upcoming show about the existence of God and the religions organized around the worship of a creator. He was repeatedly pitched on the virtues of believing in an organized religion by Fox & Friends host Gretchen Carlson, but Stossel was unreceptive to her arguments.

RELATED: John Stossel: Americans With Disabilities Act Makes Disabled Workers 'A Threat' To Employers
Stossel said that, while he does not "believe in religion," he would like to because he sees that those who do have achieved a peace he envies. He says he has tried, but he cannot believe in a church.
"Why not," Carlson asked.
"Because I want evidence," Stossel replied. "How do you know God exists?"
"That's the point of religion," said Carlson. "It's all about faith. You're missing the point of religion because there really aren't facts that you hold onto."
Stossel said that he was raised in a Christian church, but his parents were Jewish. He also said that his wife raises his children Jewish.
"Do you think that it's important to give children, especially in this generation, something to hold onto so that they – during troubled times – have something to fall back on," Carlson asked.
"I don't know," answered Stossel.
Carlson said that her children are reassured by the notion that God is with them even when she is not. "Am I still convincing you," Carlson asked.
"You haven't convinced me, but I'm sure it is reassuring to them," Stossel said. "When they're 15 and they start asking questions, they will have to come to that conclusion for themselves."
"They will," Carlson agreed. "And that's called confirmation."
Watch the segment below via Fox News Channel:
> >Follow Noah Rothman (@Noah_C_Rothman) on Twitter
Have a tip we should know? tips@mediaite.com