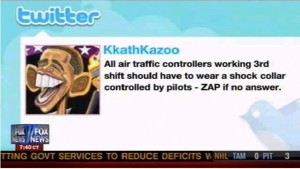 During a segment that featured viewer tweets on Thursday morning's Fox & Friends, co-anchors Gretchen Carlson and Brian Kilmeade expressed shock that their producers had chosen one with a cartoonish anti-Obama avatar. Although the show's hosts are never shy about criticizing President Obama, they apparently thought KKathKazoo crossed a line.

The segment featured tweets from viewers about the most recent air traffic controller to be caught napping, and KKathKazoo apparently caught the producer's eye with her suggestion that the controllers be fitted with pilot-controlled shock collars. Kilmeade was initially amused by her twitter handle, and made a laughing reference to Flintstones character The Great Gazoo.
Her avatar, however, moved Carlson to say "That's a little outrageous, as well as the picture," to which Brian Kilmeade added, nervously, "Yeah, I'm surprised we put that picture up there."
The avatar features a cartoon depiction of President Obama wearing an enormous, toothy grin and brandishing the Liberty torch. Here's the clip, from Fox News:
The presence of the letters KKK in this user's Twitter handle are likely a reference to her first name and location in Kalamazoo, but earlier in the day, she did engage in a little bit of racial joshing with conservative radio host Neal Boortz. Boortz wondered if he should tell a joke about a woman with a cleft palate, and KKathKazoo chimed in with a few suggestions:
1-legged gal's name, "Ilene". Jap 1-legged gal's name "Irene". Man 0 arms/legs in pool – named "Bob", same on floor "Bob"
For the record, the correct punchline to that last one is "Matt." Also, a prostitute with braces is called "Nikki."
Having an anti-Obama avatar so offensive that it earns you a rebuke from Fox & Friends is a neat trick, so perhaps KKathKazoo can parlay this into a few more Twitter followers.
As for Fox & Friends' producers, they have nothing to be ashamed of. Even The White House lets a dodgy tweet slip through occasionally.
Have a tip we should know? tips@mediaite.com