Fox & Friends Hosts Ask If Ranting House Stenographer Targeted Because of Her Religious Beliefs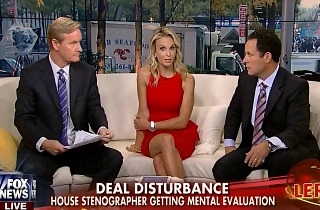 The hosts of Fox & Friends on Thursday dug into the unexpected story of the stenographer of the House of Representatives who had a breakdown during Wednesday night's crucial vote to end the government shutdown and raise the debt ceiling. The Fox hosts implied that the woman who screamed "He will not be mocked!" and "The greatest deception here is this is not one nation under God! It never was!" may have been the subject of anti-religious discrimination.

"That is Diane Reidy," Brian Kilmeade reported, "who went to the Speaker's chair, as you saw and saying praise to God, Jesus Christ."
"She went on to say something in reference to Freemasons, and also seemed to say something about a house being divided," he continued.
RELATED: 'You Cannot Serve Two Masters!' House Stenographer Goes Crazy During House Vote, Escorted Out
"This minister just emailed," Steve Doocy interrupted.
"It was not a mental episode," he said, reading from the email. "What she was doing was known as an exercise of the gifts of the spirit where she was — she had brought a warning and a message from God regarding the activity, he felt, there in the House."
"Amazingly, this religious and obviously a sweet lady gets fed up and speaks her mind, something we all have tried to do," Doocy added while reading from another email. "She brings up our dear lord and she gets a mental evaluation? I think it should be the other way around."
"Who knows?" Elisabeth Hasselbeck asked. "Maybe she just saw something that didn't seem right and mounting frustrations and tensions brought it out of her."
Watch the clip below via Fox News Channel:
[Photo via screen grab ]
— —
> >Follow Noah Rothman (@NoahCRothman) on Twitter
Have a tip we should know? tips@mediaite.com