Fox & Friends Hosts Battle Over Whether Obama's Outreach To GOP Is Genuine Or 'A Tactic' Aimed At Media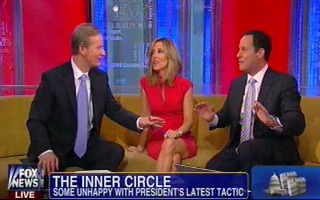 Sharp divisions arose on the set of Fox & Friends on Wednesday as the hosts argued over whether President Barack Obama was genuinely reaching out to Congressional Republicans to secure a deal on the debt or if he was cynically using his GOP counterparts as a political tool. Two of the hosts said that Obama's outreach, genuine or not, was welcome, but another warned that Obama was merely setting up the GOP for yet another fall.

RELATED: Obama In Wide-Ranging Interview With ABC: 'We Don't Have An Immediate Crisis In Terms Of Debt'
"The president and Congress, well Republicans, have just different goals," said Alisyn Camerota.
Brian Kilmeade suggested that the president may want to use Republicans to force Congressional Democrats to accept some changes to entitlement programs.
"That's all predicated on, 'he's being sincere, he wants to reach across the aisle,'" Steve Doocy countered. "I feel that's not true." He went on to say that the president is doing damage control with his recent charm offensive after his warnings about the impact the sequester cuts would have on average Americans were deemed exaggerated.
Doocy brought up a report by the National Journal's Ron Fournier in which he quotes a White House official telling him that the president's charm offensive is aimed less at Republicans and more at the media.
Kilmeade, insisting that Obama's outreach was genuine, held his ears to avoid hearing the quote from the White House aide. "You're delusional," Doocy fired off at Kilmeade. "It's a tactic."
"Who cares what the motivation is?" Camerota asked. "We still believe that it is in earnest – that they are actually talking to each other in earnest and I refuse to believe that senior White House official who says it's all political."
Finally, they played a clip of The Weekly Standard's Stephen F. Hayes who said on Tuesday's Special Report that he believed, like Doocy, the president was playing to the media with his outreach effort.
"It's all optics," Doocy said in agreement with Hayes.
Watch the clip below via Fox News Channel:
> >Follow Noah Rothman (@NoahCRothman) on Twitter
Have a tip we should know? tips@mediaite.com