Fox & Friends Hosts Challenge Viewers To Keep Track Of Other News Outlets Reporting On Benghazi Survivors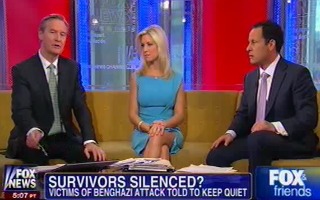 The hosts of Fox & Friends on Monday updated their audience on the new revelations regarding the survivors of the attack on an American consulate in Benghazi last year. The Fox hosts noted that some Republican lawmakers are requesting access to these survivors and are being rebuffed by the federal government. They were shocked this important story was not being covered extensively and challenged their viewers to note how many other news organizations besides Fox News, if any, are monitoring the Benghazi survivors story.

RELATED: Kirsten Powers On Benghazi: 'Someone Should Ask Obama To Define The Word Transparency'
The Fox News hosts played a portion of an interview Sen. Lindsey Graham (R-SC) gave Mike Huckabee over the weekend in which he accused the administration of intentionally refusing to grant Congressional investigators access to the Benghazi survivors.
"I'm going to hold up the business of the Senate until we get the survivors on record," Graham said.
"I'd like to see somebody else pursue this," Brian Kilmeade said. "We're like the – Jennifer Griffin, Bret Baier, us – are like the Lone Rangers on this."
"Report back to us in a couple of days: how many of your local papers are going to do this?" Steve Doocy asked. "This is a gigantic story."
"That the government is pressuring witnesses not to come forward?" Kilmeade asked emphatically.
"Watch the other network news casts," Doocy continued. "Find out and report back to us how many of your favorite news shows actually do this story aside from Fox."
Watch the segment below via Fox News Channel:
> >Follow Noah Rothman (@NoahCRothman) on Twitter
Have a tip we should know? tips@mediaite.com