Fox & Friends Hosts Grill Marco Rubio: How Much 'Fault' Will Cruz Bear For Shutdown?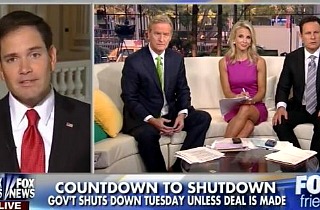 Sen. Marco Rubio (R-FL) joined the hosts of Fox & Friends on Wednesday morning while Sen. Ted Cruz's (R-TX) all-night "filibuster" against the Affordable Care Act was still ongoing. He faced some tough questions from the Fox hosts about whether Cruz's strategy was effective and if he would accept personal responsibility if the GOP is blamed by the public for forcing a government shutdown.

"I hope people understand that this thing's right around the corner," Rubio said of the effort to inform the public about the ACA. "And I think as this issue goes on on the floor and in the days to come, we're going to make a growing number of Americans aware of how damaging Obamacare is to the people who are trying to make it."
"Are you prepared to go down with the ship if, indeed, it does turn into a blame game with Republicans," Elisabeth Hasselbeck asked, "in terms of fault here?"
RELATED: Ted Cruz Takes a Shot at Detractors, 'Courage' of Anonymous Congressional Staffers Trashing Him
"Well, fault for what?" Rubio countered.
"Government shutdown," Steve Doocy interjected.
"But that's a false choice," Rubio replied. "We can have government funding with Obamacare. We can have government funding without Obamacare."
Rubio said that the president is the one who would force a shutdown over the ACA, and that Obama has already unilaterally defunded portions of his own law.
"Are you against what Ted Cruz is doing?" Brian Kilmeade pressed. "Do you think it's hurting the party?"
Rubio said he was not and the effort to inform the public could only be a plus for his party.
"So, what is the end game, senator?" Kilmeade asked.
"Right now, it looks like the Democrats have stubbornly dug in and saying the only bill they will pass out of here is one that funds the government, but only if it funds Obamacare," Rubio conceded.
Watch the clip below via Fox News Channel:
[Photo via screen grab ]
— —
> >Follow Noah Rothman (@NoahCRothman) on Twitter
Have a tip we should know? tips@mediaite.com