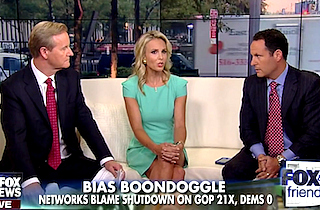 On Thursday morning, the hosts on Fox & Friends continued their critique of what they felt was biased coverage of the government shutdown, accusing the "mainstream media" of disproportionately blaming Republicans, though arguing that media outlets were trending toward a both-sides-do-it narrative.
"The president knew if he took a particular stand where I'm not going to negotiate with Republicans at all, then the mainstream media would go ahead and blame the Republicans," co-host Steve Doocy said. "According to the Media Research Center, [the media] blamed the Republicans 21 times, blamed both sides four times, and blamed Democrats zero times."
The hosts held up this morning's cover of the New York Daily News. Unlike Tuesday's issue, which skewered House Speaker John Boehner (R-OH), and Wednesday's issue, which went after Boehner and Senator Ted Cruz (R-TX), this morning's included President Barack Obama and Senate Majority Leader Harry Reid along with Boehner as the Three Stooges.
"Finally the Daily News is catching up," Doocy said.
"They didn't single out the president, of course, 'cause he's only in charge," co-host Elisabeth Hasselbeck said.
"Now you have to wonder what role the media is playing in keeping this going," said co-host Brian Kilmeade. "Because the Republicans are saying we got our side and the Democrats say we got our side, and they're saying, wow, the media's got our back. CBS did a poll, and it's a lot closer than I thought. 44% blame Republicans for the impasse. 33% blame the president. But it's trending closer and closer despite the landslide of media bias."
"The Associated Press is spinning it this way—you know, the White House calls them glitches, but they're really gigantic crashes—they say, 'On-line Delays Signal Strong Demand for Health Care," said Doocy. "Okay."
"Others essentially spin it positively," Kilmeade said, "as if it's a newsletter, not a newspaper."
Watch the full segment below, via Fox News:
[Image via screengrab]
——
>> Follow Evan McMurry (@evanmcmurry) on Twitter
Have a tip we should know? tips@mediaite.com