Fox & Friends Hosts: Obama Won't End Shutdown Because 'He's Benefiting From This'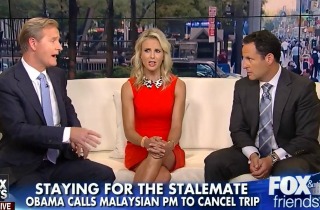 As the second day of a government shutdown began on Wednesday, the hosts of Fox & Friends conceded that there does not appear to be much incentive for Republicans, Democrats and President Barack Obama to agree on a deal to end the standoff. The Fox hosts noted that Obama believes he is going to benefit politically from the shutdown and will not negotiate an end before the polls suggest he is losing the public trust as much as Republicans are presently.

Brian Kilmeade began by conceding that Sen. Ted Cruz (R-TX) "did not have the leverage" to extract concessions from Democrats on the implementation of the Affordable Care Act.
"The president seeing an opportunity to get his second term off the mat and standing up after disastrous series of overseas diplomatic pitfalls," Kilmeade observed. "Now, all of a sudden, finds himself back on the campaign trail with a common enemy, a familiar enemy, anybody with an 'R.'"
Elisabeth Hasselbeck said that even "the boss," New Jersey Gov. Chris Christie took a veiled shot at Obama's lack of leadership during this crisis.
"The Democrats and [Sen.] Harry Reid (D-NV) has become Dr. No, essentially," Steve Doocy opined.
RELATED: October Surprise: Government Shuts Down, Stocks Close Up, Distracted Americans Shrug
He added that he believes the public is going to become confused by the overtures the Republicans in Congress are making to negotiate a solution to the shutdown when Democrats appear unwilling to negotiate at all.
"But the polls indicate that the president has no urgency to benefit from the Republicans," Kilmeade observed. "He's benefitting from this, and the American people, for the most part, are blaming Republicans."
He said that the Democrats and Obama are not going to concede anything in negotiations with the GOP because they are not feeling any political pressure to do so.
"The only thing that would change his mind is the American people stood up and when the pollster calls your house, answer the question and say 'No, I blame both,'" Kilmeade suggested. "That will get the president to the table."
Watch the clip below via Fox News Channel:
[Photo via screen grab ]
— —
> >Follow Noah Rothman (@NoahCRothman) on Twitter
Have a tip we should know? tips@mediaite.com