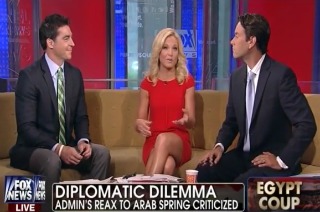 On Friday, the hosts of Fox & Friends scolded the Obama administration for making a series of bad calls in the Middle East over the course of President Barack Obama's first term. The hosts listed the many instances when the White House intervened when they should have been more cautious, or failed to act when they should have acted – the result being the chaotic state of affairs in Egypt today.

"I'm wondering if the administration was too distant in all of this," Clayton Morris asked of the nascent coup that ousted former Egyptian President Mohamed Morsi on Wednesday.
Anna Kooiman quoted a former State Department official who scolded the White House's reaction to the coup, saying "We've managed now to alienate both sides in Egypt."
"We remember when President Obama began the administration – went to Cairo, gave a big speech, about how relations between the U.S. and the Muslim world were going to be much more improved and you're not seeing that right now," added Jesse Watters.
RELATED: MSNBC Contributor: What's Happening In Egypt Shows 'Democracy Has Its Limitations'
"The president hasn't made great bets in the Middle East," he continued.
You remember as a candidate he was against the surge, was successful. he's had very icy relations with [Benjamin] Netanyahu. In the Iranian situation, when the students came up and protests Ahmadinejad, didn't do enough there. H's now, I think, financing and arming the rebels in Syria, which are Al Qaeda affiliated. So, I'm not really sure how his Mideast policy is really working out.
Morris tagged that observation by noting that the White House's response to the chaos which paved the way for the fall of former Egyptian President Hosni Mubarak was both vacillating and weak.
Finally, the hosts noted that over the holiday weekend as a crisis unfolded in the Middle East, Secretary of State John Kerry was seen enjoying his time off on his Yacht in Massachusetts.
Watch the clip below via Fox News Channel:
> >Follow Noah Rothman (@NoahCRothman) on Twitter
Have a tip we should know? tips@mediaite.com