Fox & Friends Hosts to Bret Baier: Obama Will 'Scare America' to Force GOP to Abandon 'Upper Hand'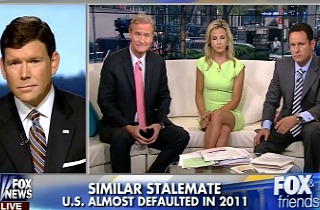 Fox News Channel's Special Report host Bret Baier joined the hosts of Fox & Friends on Monday to discuss the ongoing government shutdown and the status of negotiations to reopen the government. Fox host Steve Doocy looked at the totality of President Barack Obama's negotiating strategy and concluded that his White House was attempting to "scare America" in order to force the Republicans into capitulation.

"You know, in my opinion, week one, the president seemed to have the upper hand, clearly the GOP were on their heels," Brian Kilmeade began. "I think it will be a different week this week, just judging by what I heard over the weekend."
He cited a clip of House Speaker John Boehner (R-OH) insisting that his Republicans will not negotiate on an increase for the debt ceiling without concessions from Obama.
"A lot of people didn't think that the speaker was going to come out that firm, actually," Baier reacted. "But when he did say what he said, it seems like we are headed down this path that is going to be a long time before—probably up against October 17th."
RELATED: Wallace Grills Jack Lew: 'Your History is Wrong,' Obama's Refusal to Negotiate 'Unprecedented'
Doocy set up a clip of Treasury Secretary Jack Lew, who told Fox News Sunday host Chris Wallace over the weekend that the consequences of default would be dire.
Doocy said that the history of debt ceiling negotiations is a history of deals and there is plenty of precedent for a debt ceiling increase that includes something for the other side.
"So it does look to some, Bret, like the administration is trying to force the hands of the Republicans who right now are united, trying to scare America into having the Republicans cave," Doocy opined.
Baier noted that the government would have to choose to not service the debt once a ceiling increase deadline passed, but if the government missed one bond payment it would have a dramatic impact on the economy.
Watch the clip below via Fox News Channel:
[Photo via screen grab ]
— —
> >Follow Noah Rothman (@NoahCRothman) on Twitter
Have a tip we should know? [email protected]