Fox & Friends Hosts Tongue-Tied Defending Romney Claim That 92% Of Job Losses Have Been Among Women
Fox & Friends
Tongue-Tied Over Romney's Job Loss Claim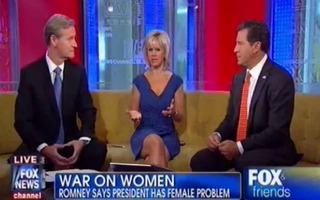 Speaking at a rally in Wilmington, Delaware on Tuesday, Mitt Romney shocked his audience with statistics that few had heard before including that joblessness under the Obama administration has disproportionately impacted women. Romney claimed that "92 percent of job losses have been among women." While the hosts of Fox & Friends tried to defend Romney's claim, that statistic is disputable.
RELATED: MSNBC Panel Tackles Romney's 'Man Problem:' He 'Seems Like He's Not The Typical American Male'

"You look at the experience of this administration and the last three and a half years and you can see that something is seriously wrong with his perspective," said Romney. "Not only have 92 percent of the job losses been among women, but you've also seen 800,000 people overall lose jobs, home values decline, the median income of Americans in the last four years has dropped by 10 percent."
"92 percent of the – of the people who have lost jobs on Barack Obama's watch have been women," Steve Doocy asked betraying his level of shock upon returning from the clip.
"Big seems…" said Gretchen Carlson.
"Impossible," responded fill-in host Eric Bolling. "Impossible," Carlson agreed.
The hosts were slightly confounded by Romney's statement. Bolling conceded that Romney "may have misspoken a little bit," while Doocy provided a talking point out of the Republican National Committee saying that the real 'war on women' has been these joblessness numbers – suggesting that the RNC is sticking by Romney's assertion.
"The one thing that was important that he said was that median income has dropped over the three years that Obama has been president," said Bolling.
"What you need to focus on, really, is just the unemployment rate in general," Carlson reminded her audience. "And the cost of gas," said Doocy.
Romney's "92 percent" claim is based on statistics provided by the Bureau of Labor Statistics, which show that from January 2009 and March 2012, men lost 57,000 jobs while women lost 683,000 jobs. That's shockingly disproportionate, but if the picture took into account the tail end of the Bush administration, men took the brunt of the bad economy. Since January 2007, 5,355,000 men have lost their jobs while 2,124,000 women became jobless in the same time period.
While Romney's claim is debatable, most of the fact checking organizations have rated this claim as being mostly deceptive. The Washington Post rated the claim that Obama's policies have disproportionately hurt working women "true but false." The fact checking "Politifact", operated by the Tampa Bay Times, rated Romney's claim as "mostly false"
Watch the segment below via Fox News Channel:
Have a tip we should know? tips@mediaite.com