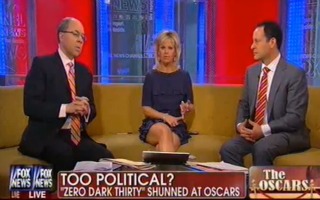 The hosts of Fox & Friends speculated about the possible political motives which may have been the basis for Zero Dark Thirty's failure to win any of the major accolades at last night's Academy Awards. One Fox host noted that "a lot of people" said it was a political move. Another host said that the film's female director may not have been taken seriously because of her gender, despite winning Best Director for an earlier film about the military.

RELATED: Funny Or Die Releases Hilarious Deleted Scene From Zero Dark Thirty
Brian Kilmeade asked why a movie that "most people saw and loved" was shut out of the major Oscar awards.
"A lot of people are saying that it is a political move," Gretchen Carlson said. "A lot of people from both sides of the aisle thought that there were problems with it."
Carlson said that conservatives were frustrated that they believed American military secrets were being turned over in order to make the film, and liberals did not appreciate the depiction of enhanced interrogation techniques in the movie.
"I thought Jessica Chastain was amazing in this movie," Carlson added. "My personal pick for best actress."
"The director is a woman and a great director – was she not taken seriously in terms of this movie?" asked fill in host Peter Johnson Jr. "In the end, Osama bin Laden is taken down and that is a great moment of justice for America. Why wasn't it accorded the same plaudits that another happy American ending in Argo was accorded? It's kind of tough to know."
Carlson said that director Kathryn Bigelow, Zero Dark Thirty's director, won the Oscar for The Hurt Locker which was another military-themed film taking place in Iraq. "So, why not in this particular movie?" Carlson asked.
Watch the clip below via Fox News Channel:
> >Follow Noah Rothman (@NoahCRothman) on Twitter
Have a tip we should know? tips@mediaite.com