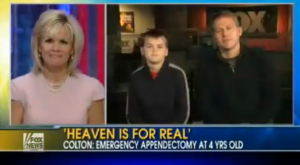 With all the big news stories happening this week, we somehow missed the biggest one possible: Fox & Friends, a few days ago had on a guest who not only can prove that Heaven is real, he's been there! Even more amazingly, he's only eleven years old! His name is Colton Burpo and, when he was just about four, he had an emergency surgery, during which, he went up to Heaven and returned, fully able to recount the tale. While there, he met his unborn sister who had died in a miscarriage, his great-grandfather who'd been dead for years, and even got a glimpse of both God and Jesus. The former is "very, very big" and the latter has a "rough but kind face."
Now, seven years later, Colton and his family (along with Lynn Vincent, the co-author of Going Rogue!) have written a book to tell the tale. With the help of Gretchen Carlson, they've managed to spread this incredible story.
Author's Note: I am excited to announce that this post has been written in Tonal Vision™, a brand new technology designed to revolutionize the way we see content on the web! Through the magic of Tonal Vision™, readers are able to see an entirely different message in the same exact words, depending on their point of view! Is this post 100% earnest? Is it 100% sarcastic? The choice is yours! Tonal Vision,™ the wave of the future!
Check out the truly inspiring clip from Fox News below!
(via Videogum, h/t Eric Cunningham)
Have a tip we should know? [email protected]