Fox & Friends Invites Astrologer To Discuss Obama And Hillary Clinton's Future Political Careers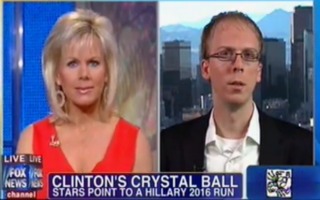 Fox & Friends invited an astrologer on their program to discuss Sec. Hillary Clinton and President Barack Obama's political futures. The astrologer made a series of prediction based on their charts and determined that Americans will be talking about these political figures for many years to come.

RELATED: 'Fox & Friends' Indulges In Some Good, Old-Fashioned White House Bashing On SNL
Co-host Gretchen Carlson asked astrologer Chris Brennan to tell her why he believed 2016 would be Clinton's year. "I understand that there is something between an Aquarius and a Leo period," said Carlson. "Explain to me how that relates to Hillary Clinton and whether or not she's going to run for president."
"So, what me and my friend Patrick Watson looked for was just repetitions in Hillary's life when she did important things career-wise or politically," Brennan began. He said that certain portions of the zodiac were activated at those points, and "it happens to be coming up again in 2015."
Carlson said that Brennan performed this analysis going all the way back to when Clinton was in the sixth grade and ran for student government.
"We don't know if she's going to win the presidency because we don't know who her challenger is going to be," said Brennan. "It's very much dependent on that. But we do know that, because she's repeating the same periods that she always reaches during important political moments that she probably will run again."
Carlson asked Brennan what he would say to people who don't believe in astrology, particularly since he is working without Clinton's precise time of birth which she said was "critical when you do these kinds of analyses."
"That was a big problem during the 2008 election, we didn't have Obama's time for a pretty long period," said Brennan. "We have a pretty good source that this is the correct time." Brennan said that if a different time emerges or a birth certificate is released, it would "invalidate the prediction."
Carlson asked about Brennan's 2008 predictions – he said that he received a copy of Obama's birth certificate in June of that year, and a conference of astrologers predicted that Obama would win the presidency. "Once we actually had Obama's certificate, we were pretty sure he would win," said Brennan.
President Obama famously released his birth certificate to the public on April 27, 2011. In June of 2008, the Obama campaign released a digitally scanned image of that certificate with an official time and place of birth.
"Do you base it completely on astrology or on things like, say, the economy," asked Carlson, referring to the economic collapse that followed the collapse of the mortgage market and lending firms like Bear Stearns and Lehman Brothers in September, 2008.
"No," said Brennan. "I'm an astrologer not an economist, so I don't really have much to say about economics."
Brennan predicts that Barack Obama will win reelection in 2012, based on his numerological chart.
Watch the segment via Fox News Channel:
Have a tip we should know? tips@mediaite.com