Fox & Friends' Kilmeade Confesses Why He Can't Stand SNL's Impression of Him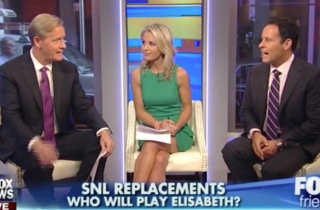 This morning on Fox & Friends, things got a tad awkward when the show brought up the Saturday Night Live parodies of the morning show. While new co-host Elisabeth Hasselbeck simply wanted to know who would play her in the new season, Brian Kilmeade talked about why he dislikes the impression so much and then took jabs at members of the SNL cast.
"Who will play me on Saturday Night Live?" asked Hasselbeck to begin the segment. Cut to video of former SNL cast-member telling Fox Entertainment that Kate McKinnon could do a good Hasselbeck.
But then came the opportunity for the F&F hosts to mock their mockers. "Bad news for Saturday Night Live," co-host Steve Doocy said with a chuckle, "Not only do they have to hire a new actress, they have to build a new set." (McKinnon is already a full-time SNL cast member.)
"Maybe they will finally move on and focus on Kit [Hoover] and Billy Bush," Kilmeade continued, referring to the Access Hollywood Live co-hosts who are often the subject of SNL lampoonery.
And then the truly sore subject came up: Bobby Moynihan's portrayal of Kilmeade. "Do you think this season the guy will continue to play you as the enormous man?" Doocy asked.
"I pray he got another job," Kilmeade said. (Nope. Moynihan's back for S39.)
"Or had lap-band surgery," Doocy inserted. Ouch.
"Couldn't Chris Christie give him a coupon?" Kilmeade piled on. "I'll take dumb, but I fight the fat," he confessed.
Just when you thought the teasing was over, newsreader Heather Nauert shows up to admit she "loves" Moynihan's portrayal of Kilmeade. "Cracks me up every time!"
Suffice it to say, Kilmeade did not agree. But he took the ribbing in stride: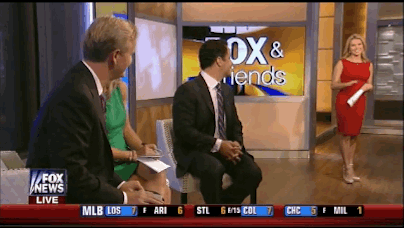 Watch below, via Fox News:
— —
>> Follow Andrew Kirell (@AndrewKirell) on Twitter
Have a tip we should know? tips@mediaite.com