Fox & Friends Marvels At Dalai Lama's Revelation To CNN, 'Channel No One Watches': 'I Love President Bush'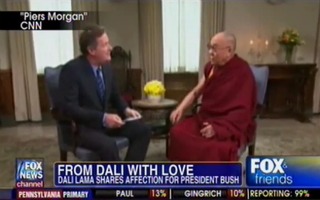 Playing a clip from an unaired Piers Morgan interview with the Dalai Lama on CNN, Fox & Friends' hosts marveled at the revelation that the Tibetan spiritual leader, when asked about leaders he is impressed by, named South African President Nelson Mandela and former U.S. President George W. Bush.
RELATED: Piers Morgan Chats With Rick And Karen Santorum About Campaign Regrets, Endorsing Romney
"According to NewsBusters, they've got a headline, this is something that will make liberal heads explode," said co-host Steve Doocy.
The Fox & Friends hosts played a clip of Piers Morgan on CNN in an interview with the Dalai Lama that will air on Wednesday.
"Which people that you've ever met have really impressed you?" Morgan asked the Dalai Lama. He quickly responded that President Nelson Mandela was among the more impressive. "But then – then of course as an individual person, I love President Bush," said the Dalai Lama.
"Which one?" Morgan asked. "The younger one," The Dalai Lama replied.
Co-host Brian Kilmeade says that Morgan reacted incredulously to the revelation and, in a follow up question, asked the Dalai Lama, "aren't you a man of peace? Bush started wars."
"Maybe he likes George W. Bush because he was never hustled out the back door of the George W. Bush White House, which was the treatment he got from this President," said Doocy.
"This interview will be tonight, over on that channel nobody watches," Doocy concluded, referring to CNN.
Watch the segment below via Fox News Channel:
Have a tip we should know? [email protected]