Fox & Friends: Media's Ted 'Cruz Derangement Syndrome' An Attempt To Tear Down A Hispanic Conservative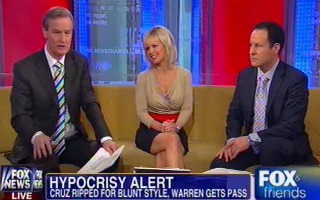 The hosts of Fox & Friends tore into the media on Wednesday for demonstrating what they said was a hypocritical level of revulsion towards the behavior of Sen. Ted Cruz (R-TX). The Fox hosts established that the press has been less aggrieved by the equally aggressive behavior of freshman Sen. Elizabeth Warren (D-MA), and theorized that the left was attempting to delegitimize Cruz because he is a Hispanic conservative.

RELATED: Scarborough Rips Sens. John McCain, Ted Cruz For 'Embarrassing' Handling Of Hagel's Confirmation Hearing
Brian Kilmeade remarked that Cruz has consistently asked the hard questions of President Barack Obama's nominees to become his next Secretary of Defense and Central Intelligence Agency Director. Kilmeade expressed surprise that Cruz is getting the most backlash over his tough line of questioning.
Gretchen Carlson noted that Cruz may have crossed a line when he questioned former Sen. Chuck Hagel's (R-NE) patriotism, after which even Sen. John McCain (R-AZ) came to Hagel's defense. However, Carlson noted, calling Cruz "nasty" and an "ornery, swaggering piece of work" in the New York Times was hyperbolic.
"They're clearly trying to Bork him," Steve Doocy said. "And they're trying not just to tar Cruz but also the entire tea party movement." Doocy said that in the past the left would attempt to paint political opponents as racist, but now they are going after Cruz for being a McCarthyite.
They played a clip of Fox News Channel's Special Report from Tuesday where Wall Street Journal columnist Jason Riley asked why the press is so outraged by Sen. Cruz's pugnacity but infatuated with similar behavior from Sen. Warren.
"The big picture story here is that Ted Cruz is a Latino," Carlson said. "And everyone knows that the Hispanic vote is very important, especially moving forward in this country. So, that could be the big picture reason why there has been this attack — because he is a conservative Republican and so far a huge majority of the Latino vote went to the Democrats."
Watch the clip below via Fox News Channel:
> >Follow Noah Rothman (@NoahCRothman) on Twitter
Have a tip we should know? tips@mediaite.com