Fox & Friends Mock Joe Biden's 'Cringe-Worthy' Auto Industry Question On Jeopardy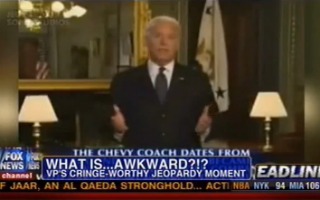 On Thursday, the crew at Fox & Friends criticized Vice President Joe Biden's Jeopardy appearance from the previous night, calling his question (or, well, his answer) about the American auto industry "totally awkward," labeling it "cringe-worthy" in the show's chyron, and poking fun at him for liking an expensive car.
"The Chevy coach dates from around the time this became the world's largest car company, with cars like my favorite, the Corvette," Biden had said on the popular quiz show. "It held that position until 2008 and then filed for bankruptcy, but now it's back on top."
RELATED: Former MI Gov. Blasts Romney Who 'Knifed Us In The Back' For Taking Auto Rescue Credit
"So Vice President Biden making a guest appearance on Jeopardy's teen tourney last night," explained host Gretchen Carlson. "He read the clues for the cars in America category, but many couldn't help but notice his politics shining through when he praised General Motors and their recovery since the bailout."
"Isn't that something a rich person would get, a Corvette?" asked Brian Kilmeade. "How can you relate to the everyday person?"
"A lot of guys when they're young, they dream of one day getting a Corvette or fancy mustang or something like that," Steve Doocy pointed out.
"But only rich people get it," Kilmeade continued.
"Eventually, that's true," conceded Doocy. "Thanks for bumming us out, Brian."
Carlson made sure to point out that, actually, "people who work hard might get it, too, Brian."
Have a look, via Fox News:
Have a tip we should know? tips@mediaite.com