Fox & Friends Mocks Obama's Mystery Appearances In White House Presidential Biographies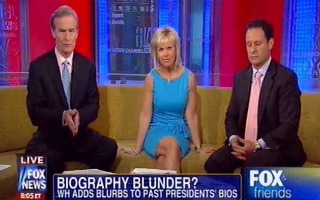 Fox & Friends tackled a recent controversy surrounding the White House doctoring presidential biographies hosted on their website to include mentions of President Barack Obama. The Fox hosts then ran ads out of the Republican National Committee which insert President Obama into famous moments in American history.

RELATED: NY Times Buries The Lede: Anderson Cooper's Ratings Surge At 8PM
"If you go to the White House official website, you will find biographies of all the presidents," said co-host Steve Doocy. "All of these biographies were written by Michael Beschloss and Hugh Sidey. And they have been just the biographies of each of these presidents until recently when this White House decided to inject some of President Obama into the biographies of a whole bunch of president's that he wasn't directly involved in."
Co-Host Gretchen Carlson read some edited portions of the presidential biographies from the White House website. The first was a portion from the biography of President Franklin Delano Roosevelt:
On August 14, 1935, President Roosevelt signed the Social Security Act. Today the Obama administration continues to protect seniors and ensure Social Security will be there for future generations
Co-Host Brian Kilmeade read a portion of the edited biography of President Ronald Reagan:
In a June 28, 1985 speech Reagan called for a fairer tax code, one where a multi-millionaire did not have a lower tax rate than his secretary… Today, President Obama is calling for the same with the Buffett Rule.
Carlson said that edit was inaccurate, and Reagan did not call for additional taxes. Doocy read a statement from the Republican National Committee which called the Obama White House's moves part of a "culture of narcissism."
He went on to display a series of photographs from the RNC which portray Obama in great moments in American history, including on the surface of the moon with astronaut Neil Armstrong, In the Kennedy White House with Robert and John F. Kennedy discussing the Bay of Pigs invasion and alongside Teddy Roosevelt at the battle of San Juan Hill.
Watch the segment below via Fox News Channel:
Have a tip we should know? tips@mediaite.com