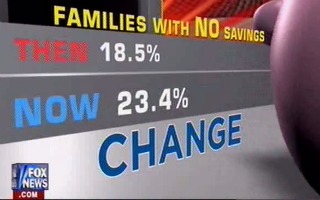 On Wednesday, Fox & Friends aired a package piece that is easy to construe to be an attack on President Barack Obama in the style of a Republican committee web ad. The sharply edited and highly produced piece may cross a line, however, from journalism to advocacy.

RELATED: NY Times Buries The Lede: Anderson Cooper's Ratings Surge At 8PM
Co-host Gretchen Carlson introduced the clip and reminded her audience of President Obama's unofficial slogans from the 2008 campaign season: "hope" and "change."
"The President says that he is still using that slogan in the way in which he hopes to get four more years," said Carlson. "So we decided to take a look back at the President's first term to see if it lived up to hope and change."
What followed was an edited piece that bore striking resemblance to a Republican party web ad.
The crisply edited package fact-checked the President's claims on the campaign trail while being scored with ominous music.
The piece contrasts Obama's upbeat rhetoric from 2008 with his slightly more realistic tone in 2012, and spends nearly a minute highlighting the rising gas prices and another minute on the increasing number of food stamp recipients.
Co-host Steve Doocy concluded the segment by congratulating Fox & Friends producer Chris White. Doocy said "he has been in a small editing room for the last couple of weeks" producing that piece. Also, Mediaite hears that White may be heading to CNN in the near future.
The nearly four-minute long package could have been a web ad produced by the Republican National Committee – although they would probably have to cut at least 120 seconds.
In fact, it seemed as though the style of the piece borrows from the groundbreaking and successful web ads the Republican Governor's Association produced during the 2010 midterm election cycle. The most powerful of which, "Remember November," arguably helped the RGA through to a record fundraising year and a spectacularly successful Election Day.
But is this the place of a morning news program, albeit one that makes no bones about its editorial voice leaning to the right? It strikes me that this is not the place of any program.
It is a fine line between cheerleading for one side and contributing actively towards a campaign – it is hard not to view this package piece as anything but a negative ad against President Obama. In my estimation, that crosses a line from merely voicing support for a candidate or cause to advocacy and campaigning. While no law prohibits this behavior, it is slightly distasteful and at least partially negligent of the mission of any morning news program — which should be to inform the political debate but not become the subject of it.
UPDATE: From Bill Shine, EVP of programming at Fox News Channel:
"The package that aired on FOX & Friends was created by an associate producer and was not authorized at the senior executive level of the network. This has been addressed with the show's producers."
–BILL SHINE, Executive Vice President of Programming.
Watch the piece below via Fox News Channel:
Editor's note: This post has been edited since its original posting – Jon Nicosia
Have a tip we should know? tips@mediaite.com