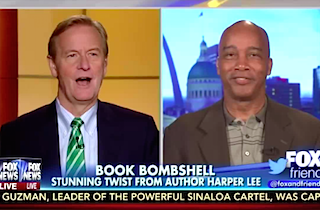 If you've been eagerly awaiting Fox News' unique take on Harper Lee's highly-anticipated To Kill a Mockingbird sequel Go Set a Watchman
, Steve Doocy delivered big time on Fox & Friends early Monday morning.
Last week, we learned that in the new book, which was written before Mockingbird, but takes place decades later, Atticus Finch displays some racist views. To Fox's Doocy and his guest Kevin Jackson, this amounts to "revisionist fiction."
"Apparently it shows Atticus Finch in a much different light. It's being revealed that he's not a hero at all, but he's a racist. So why the revisionist literature?" Doocy asked of the new novel. "I just don't get it," he added, wondering why Lee would tarnish the legacy of "one of greatest movies and books of all time" by releasing the book now.
Jackson denounced "the idea of taking Atticus Finch, who was an iconic character" and creating "revisionist literature" or "revisionist fiction," which are apparently terms he coined just for this purpose. "This isn't even real," continued, saying the Lee has turned Finch "into a villain."
"The real underlying meaning is that even when a white guy does good for a black guy, which is what Atticus Finch did in trying to save the life of the black man in the book, he still has an underlying tint of racism," Jackson added. "And I think that's the sad part."
"It's almost that they want to bring it into the forefront and take this guy that's become and iconic hero of the civil rights movement and make him a racist in the future now," Jackson said. "And it fits a political correct narrative today."
However, since Lee first wrote the manuscript in the 1950s, it could not have influenced by that modern "political correct narrative." When Doocy acknowledged that fact, Jackson admitted, "I don't know the timeline."
"To finish it in this way after America has, again, come to love Atticus Finch," he lamented, "and I think if you just read the novel it's one thing, but to see Gregory Peck play it, there's nothing racist about Gregory Peck."
What are the chances that either of these men have actually read the new book? Hint: It's not being officially released until tomorrow
.
Another perspective came this weekend in a the form of a series of tweets from NPR's Michele Norris, who had this to say about Finch's transformation:
Did we really, totally & w/out Q believe that upstanding lawyer in a small southern town was completely out of step with social convention

— Michele Norris (@michele_norris) July 12, 2015
Perhaps

— Michele Norris (@michele_norris) July 12, 2015
But history suggests that even the most brave white southern progressives who stood chest to the wind against racial bias and hatred (1)

— Michele Norris (@michele_norris) July 12, 2015
… Could not completely separate themselves from a system they questioned or from ideas they began to abhor. (2)

— Michele Norris (@michele_norris) July 12, 2015
…they were not islands but rather part of a constellation that included congregants, co workers, police and political forces

— Michele Norris (@michele_norris) July 12, 2015
History tells us that some of he people who fought and fought hard for racial change had to reckon with what that change would mean for them

— Michele Norris (@michele_norris) July 12, 2015
Watch video below, via Fox News:
[h/t Raw Story]
[Photo via screengrab]
— —
>> Follow Matt Wilstein (@TheMattWilstein) on Twitter
Have a tip we should know? [email protected]