Fox & Friends: Obama Ignored TV Reporters Because They're 'Blaming Both Sides' For Shutdown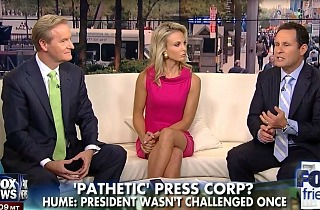 The hosts of Fox & Friends on Wednesday slammed President Barack Obama for using "hostile language" in his public statements, which made negotiations with Republican more difficult and a solution to the government shutdown less likely. They also said that Obama intentionally avoided taking questions on Tuesday from television reporters because he does not like the fact that the media is blaming both Republicans and Democrats for the shutdown.

Brian Kilmeade began by scolding the president for "taking no tough questions," but expressed even greater dissatisfaction with the fact that Obama ignored all television reporters during Tuesday's press conference.
"I guess he's a little mad at them," Kilmeade suggested.
"Maybe our expectations are a little too high," Elisabeth Hasselbeck offered. "He's not negotiating with Congress. He's not talking to Republicans. He doesn't want anything to be accomplished. Why would we expect that he would answer hard questions to television media outlets?"
"Maybe we should just give up on the idea of him answering anything," she continued.
RELATED: 'Talk to Jay': President Obama Conspicuously Skips TV Reporters at Press Conference
"He bypassed the front row because mainstream media, just like you take a look at the public opinion polls, blaming both sides for the government shutdown," Steve Doocy said. "I don't think they like that whole blame both sides thing."
"This isn't negotiation language that was used," Hasselbeck added. "There were no questions were asked about the hostile language that is used. Saying ransom, nuclear bomb, chaos, disaster."
"Is this the same president who used these terms, along with those in his administration, that we heard from after tragedies long ago, where he said that the hate language — it's divisive — that we should be peacemakers?" she asked. "Where are you now?"
Watch the clip below via Fox News Channel:
[Photo via screen grab ]
— —
> >Follow Noah Rothman (@NoahCRothman) on Twitter
Have a tip we should know? tips@mediaite.com