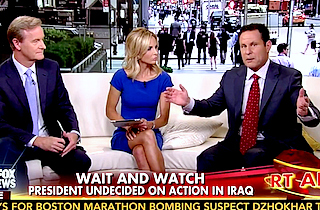 The Fox & Friends hosts accused President Barack Obama Thursday morning of having used congressional leaders for a photo op when he met with them in the Oval Office yesterday, a meeting during which Obama informed them that he did not plan to ask Congress for any additional authorization should he decide upon a military response in Iraq.

"Effectively what he told the people surrounding him there in the oval room was I actually don't need your opinion because I still have the authorization on the table from the last Iraq War, so I don't need you," cohost Steve Doocy said. "i just called you in for a photo op."
"How unbelievable is it that you call Mitch McConnell, Harry Reid, Nancy Pelosi, and John Boehner in and say, I just want to tell you that I haven't made a decision yet, I have no plan to even debate, but I don't even need you should I have a plan?" cohost Brian Kilmeade said.
"You don't have congressional leaders in there just to be told to their face that they don't matter," Kilmeade continued. "When to George Bush they mattered in 2001 in Afghanistan, to George Bush they mattered in 2003 in Iraq. Now all of a sudden in 2014, the president who said 'I'm going to put it up to Congress to bomb in Syria' is telling you I don't need you after I call you for an important meeting. This is an abdication of any leadership."
Watch the clip below, via Fox News:
[Image via screengrab]
——
>> Follow Evan McMurry (@evanmcmurry) on Twitter
Have a tip we should know? tips@mediaite.com