Fox & Friends Outrage of the Day: Local Planning Board 'Bans' Pledge of Allegiance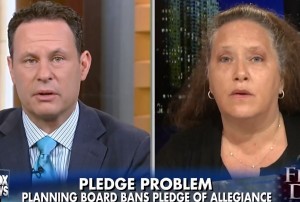 News consumers who have long faced the painful dilemma of how to keep up with the goings-on at the New Paltz, NY Planning Board can now rejoice, because Fox News has them covered. On Monday morning's Fox and Friends, co-host Brian Kilmeade featured the story of a local planning board in New York State that has, apparently, "banned" the Pledge of Allegiance from its meetings.
Kilmeade played clips from the board meeting at which the vote was held, and interviewed board member and former New Paltz Police Chief Amy Cohen, who is pro-Pledge, and who noted that "Our veterans, our soldiers, our families of veterans, soldiers, and first responders, all appreciate it. And it takes so little time and it means so much to so many."
This is the kind of story that's tailor-made for the aggrieved Fox News audience, primed and ready for any good "War on the Flag" story, but there are a couple of things about the segment that were, shockingly, misleading.
The first is that New Paltz Planning Board Chairman Michael Calimano is a veteran, and he was one of the four votes against saying the Pledge.
You also might think this story found its way to Fox News via some sort of viral groundswell, but the video of the March 14 meeting has accumulated all of a whopping 151 views on YouTube.
Finally, and most amusingly, the New Paltz Planning Board didn't actually vote to "ban" the Pledge of Allegiance, they voted to continue not saying it at the beginning of their meetings, which isn't a ban at all. They already weren't saying it. As the Youtube page for their meeting notes, that vote came "during the last 10 minutes of the nearly 4 hour meeting," so you can see why they maybe didn't feel like adding something to the agenda. On the other hand, they could have said the Pledge 40 times in the time it took them to argue about it.
Also, even though the chyron featured a logo that said "Flag Day" throughout the segment, today is not, in fact, Flag Day.
Have a tip we should know? tips@mediaite.com