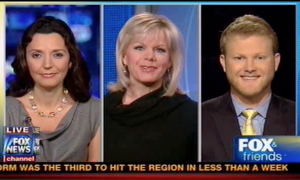 Fox & Friends kicked off the week with a continuing discussion of the fiscal cliff. Particularly, Gretchen Carlson took a look back at the remarks made on the Sunday shows, which showed that the negotiations thus far have been… less than productive.
If the blame game continues, Carlson asked, "could the fallout sink one party and elevate the other?"
"I'm struck by the fact that Tim Geithner, as Treasury Secretary, is so political in these discussions, and actually calling out Republicans," Carlson said. "Is that normal?"
He's on his way out and covering for the president, said Ron Meyer, spokesman for American Majority Action. He went on to note that Howard Dean "said that this is the best deal progressive Democrats are going to get."
"If you look at this fiscal cliff and the deal that they're talking about…it really is the DNC platform," Meyer said. "You get higher taxes, you cut defense spending, and domestic spending stays about the same. Isn't that what their platform is? They want us to go off this cliff."
"Other than the middle class getting with with tax hikes, isn't everything Ron just talked about part of the DNC platform?" Carlson said.
The tax increases are "a really big issue," said Democratic strategist Margie Omero. The president and Americans don't want to see taxes go up, she said — but they will, should we go off the cliff. Omero then noted that if that happens, polling shows that more blame would be placed on Republicans.
Meyer agreed, adding, "They're looking at polls and saying, 'Well Republicans are going to get blamed so why not run us right off the cliff?'" From there, Omero and Meyer clashed over Republicans not having offered their own plan — as well as the amount of spending cuts offered in the Democrats' offer.
"This was a very fiery debate," Carlson summed up.
Watch below, via Fox News:

Have a tip we should know? tips@mediaite.com