Fox & Friends Panel Explodes Over Pro-Occupy Wall Street Professor's Claim: 'These Are Playful People'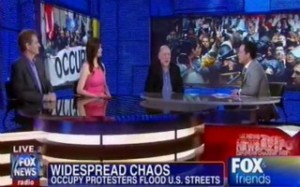 A panel discussion led by Fox & Friends co-host Brian Kilmeade Wednesday erupted over the impact that the Occupy Wall Street movement has and will have on the political dynamic of the country. The panel eventually exploded over the assertion by one pro-Occupy professor that "these are playful people," and "there is nothing in the Declaration of Independence, last time I read it, about Capitalism."

RELATED: Andrew Breitbart Confronts Occupy Crowd At CPAC, Demands They 'Stop Raping People'
Kilmeade opened the segment by reintroducing his audience to the Occupy movement, which was "reborn" during Tuesday's world-wide May Day protests.
"Last night in Seattle, protesters dressed in all black ran through the streets and used sticks to smash windows and stores and banks," said Kilmeade. "Here in New York City, violent clashes between protesters and police resulted in between 34 and 50 arrests. So did the movement achieve their goal of crippling capitalism?"
Kilmeade posed this question to his panel guests: Todd Gitlin, Columbia University professor of journalism and author of Occupy Nation: The Roots, The Spirit and the Promise of Occupy Wall Street, author and economist Todd Buchholz and Dee Dee Benkie, former chairman of the Young Republican Federation.
"How would you rate yesterday?" Kilmeade asked Gitlin.
"It's back; it's out of hibernation," said Gitlin. "It numbered in the tens of thousands. People turned out. They did a lot of things – the more garish things ended up on your television screen. The less garish things were more fun-loving and affectionate as this movement generally is."
When asked about the decline in the number of protesters that seemed commonly large in the fall of 2011, Gitlin said that the numbers at Tuesday's protest were "as big as the numbers at any point in the fall."
Buckholz disagreed. He said the movement was becoming more "focused on the violent stories" and more "fringed." He said that the clothing and attire were more intimidating. He also said that the movement was becoming "less interesting and less motivational in terms of its purposes."
"It's hard to find a politician that wants to embrace this cause," said Kilmeade to Benkie.
"Yes, and Todd [Gitlin], saying it's fun-loving and affectionate – I don't know what you're looking at," said Benkie. "Let me tell you something: our forefathers signed the Declaration of Independence, not the declaration of dependence. Meaning that, we don't want to be dependent on the government and we want to have rugged individualism." She went on to say the Occupy movement is "negative, its destructive and really needs to go away."
"These are playful people," responded Gitlin. "There is nothing in the Declaration of Independence, last time I read it, about Capitalism."
Watch the segment below via Fox News Channel:
Have a tip we should know? tips@mediaite.com