Fox & Friends Panel Takes Media To Task For Bias In Reporting Arizona Law, Fast And Furious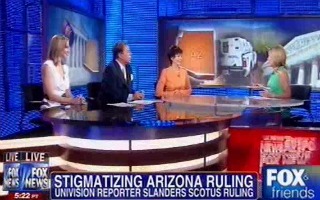 On Monday, Fox & Friends hosted a panel discussion about how the major networks have covered the Arizona immigration law, which was recently partially upheld by the Supreme Court, and the Fast and Furious gun walking scandal. The panel concluded that the major networks had reported those stories in a biased fashion.

RELATED: Jon Stewart Rips Fox News' Hypocritical Outrage Over Fast And Furious
Fill-in host Alisyn Camerota opened the panel by playing a clip of Univision anchor Jorge Ramos speaking with ABC News anchor Diane Sawyer about Arizona's controversial immigration law.
"This is a very sad day for the Hispanic community," said Ramos on Monday when the Supreme Court left one key provision of that law in place. "This would only create more persecution and discrimination in Arizona and in many other states."
"Was that an objective report by an anchor," Camerota asked her panel guests.
"It's not that Jorge Ramos is opinionated, he's simply wrong," said former George W. Bush Labor Secretary nominee Linda Chavez.
Camerota asked if her panel found it surprising that ABC News would allow Univision's opinion without an opposing view on their network news broadcast.
"Nothing surprises me anymore in the media," said Jon-Christopher Bua, a U.S. political analysis for Sky News.
"I think it is tragic when people are relying on listening to news, you know, at the dinner table and they're getting somebody's opinion," Interjected Tamara Holder, Fox News legal analyst. "What makes Fox great is that you get crazy people like me on the left giving an opinion and other people who are giving just the news. And there needs to be a separation."
Camerota said that the network broadcasts have largely ignored the Fast and Furious scandal and, those networks that have covered the story, did so briefly until "other, lesser stories have eclipsed it."
"Is it newsworthy," asked Camerota.
"Of course it's newsworthy," replied Chavez. "And the irony is, President [Barack] Obama – by invoking executive privilege – has actually now forced this issue onto the major, mainstream media."
Holder said that it is not uncommon for House committee votes to not make it onto the news – which is what Attorney General Eric Holder's contempt citation remains at this stage.
Watch the segment below via Fox News Channel:
> >Follow Noah Rothman (@Noah_C_Rothman) on Twitter
Have a tip we should know? tips@mediaite.com